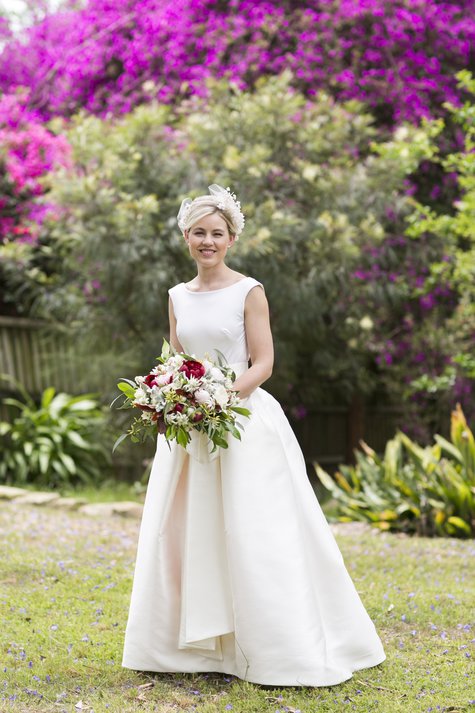 Well actually the title is misleading, it is actually a skirt and bodysuit!
I decided that I was going to take a big leap of faith in my sewing abilities and make my own wedding dress. I knew I wanted something simple and elegant and nothing that was going to send me crazy making! I went and tried on a few dresses in boutiques to get an idea of what style of dress would suit and took those ideas to Pinterest (lol)
I took a lot of inspiration from a rosa Clara dress, which takes its cues from a Dior skirt. Fd
I decided to go for an ivory colour. The bodysuit was made from silk jersey and the skirt a heavy silk. It was insanely hard to match the colours, I ended up re-doing the bodysuit with a more creamier Ivory, but you can still see in the images that is still a bit more whiter than the skirt. The skirt was lined in a silk Duponi.
I made sure I hand stitched the skirt fabric and lining and hand stitched the pleats in.
I bustled the skirt by creating multiple hooks along the base of the skirt with mini ribbons ties to pull the skirt up to sit neatly.
I drafted the patterns myself, although I did use a 1970s simplicity pattern to begin shaping the bodysuit!
Honestly, I really enjoyed making the outfit and it was exciting to wear something that I could say that I made! We had a beautiful day, everything going off without a hitch and Steve was really impressed with my 'dress'!
Really delighted that I can share this with everyone!
My photos were taken by the delightful Lauren Michelle of Sugarlove Weddings and we were married in the beautiful Blue Mountains of Australia.
In case anyone is interested my gorgeous custom made headpiece was made by Suzy O'Rourke and shoes were Valentino (a little wedding gift to myself! )
If anyone is interested, I created a video of me making the outfit! It's on you tube via this link http://youtu.be/1-nPQBNln44