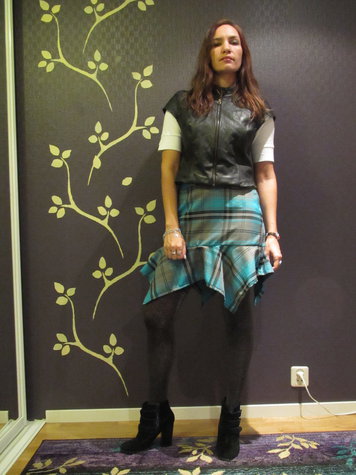 It all started with a trip to the flea market and a 40 krone (~5 dollars) genuine leather jacket. It was an old bomber jacket and I took it as a remodelling challenge for myself really. After some browsing, my choice fell on this leather vest.
A few deviations from the pattern happenned:
- I didn't have enough leather to have the side back panels cut as one piece, so I split that pattern piece into two instead.
- For the front lining, I taped the three front pieces together to reuse the old lining and front facing pieces, so I ended up with two front pieces with darts instead.
- Did a similar thing for the back lining, but had to add a leather back facing, as the original jacket didn't have it.
- I resued the original zipper as well.
- But! didn't take into account how wide it is and ended up with the collar flap too short to have a snap fastener on.
- And the leather was of course a bit too thick for the purpose, so it's not the best to be used as an inside vest as I hoped, but it can be done for some places/occasions.
Whether I keep it and wear it is still uncertain, but I've learned from the experience (also the limits of my sewing machine :) ) and am happy with the outcome. I did the transformation once, I can do it again :)