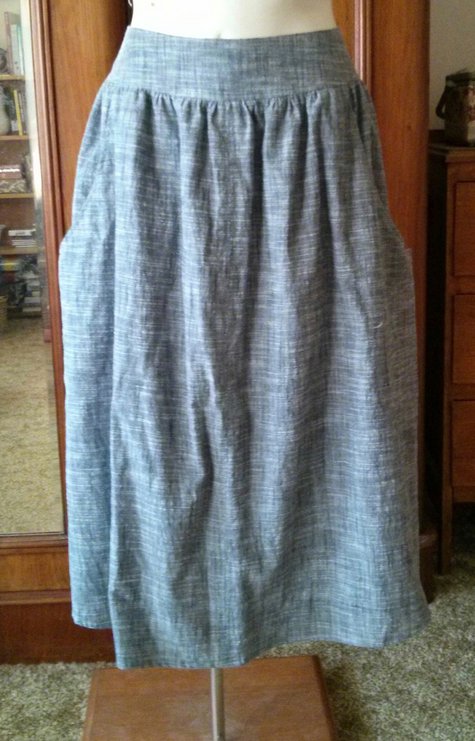 For this year's Christmas I carefully chose my own presents from family members from my wish list of patterns, fabric and yarns. From my brother I received 3m of this beautiful slub voile from Spotlight with matching lawn lining to make the Megan Nielsen Brumby Skirt pattern. Unfortunately this project turned out to be a big fat fail and I would hesitate to recommend the pattern.
The pattern's waistband looked suspiciously small and the muslin process proved that no size was big enough for me (AUS size 12-14). Instead of fighting the pattern I used the Crescent Skirt waistband facing pattern, slightly narrowed and lowered.
Although the yardage chart claimed 1.8m of fabric was all that was needed for a size XL, there was no way I would fit all of the pattern pieces on my 3m of fabric (yes,
THREE
METRES
). I hacked my pieces down to a size M and cut the pocket lining from the lawn lining fabric. The CB and CF pieces incorporate the selvedge to fit on the fabric. Despite using a smaller size in the skirt, the amount of fabric and gathers gave me an unflattering muffin top effect at my waist.
There were some steps marked as 'optional' in the pattern which I would consider entirely necessary – under stitching and using more than one row of basting stitches to gather the whole skirt, for instance. Although there is another technique mentioned (zig zagging over cord) if you try to gather a full skirt with one single row of basting stitches, you're going to have a bad time. I followed the patterns dimensions for sewing the box for the exposed zipper (essentially zipper length + 1"), but that made the zipper far too low in the skirt, so I had to sew a wider seam allowance at the top of the waistband so there wasn't a big gap before the zipper started. I also opted to hand baste the zipper in place rather than machine stitching the vertical basting stitches – not that I think the machine stitching is a bad idea, in fact it would probably be more accurate than hand basting. But there is no specified distance between the zipper teeth and the cut edge or basting stitches so I couldn't stitch it in accurately.
Finally, I was apprehensive that the lightweight voile might not hold up as a waistband and to the zipper, so I used the medium weight Whisperweft interfacing to support the fashion fabric. The final straw was the fact that the metallic zipper was still far too heavy for the skirt, and dragged the whole thing down to my hips. This is going in the refashion pile.