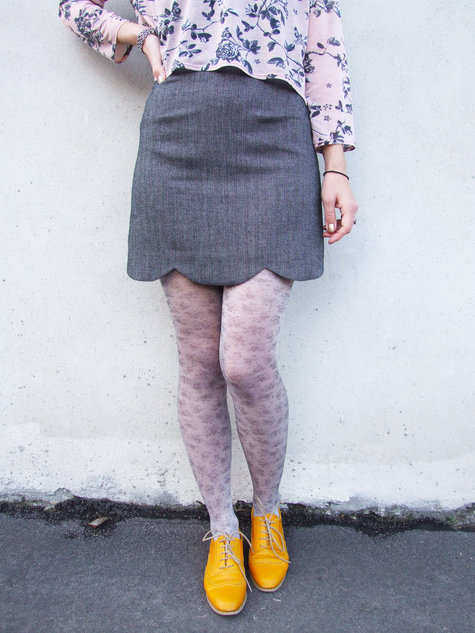 ♫ ♪ Buanderie Jazz
Ever since I made this skirt I wanted to make another one.. I was pleasantly surprised how comfy it is to wear.. The pattern is #123 from Burda 12/2010, a simple high waisted mini skirt.. Horizontal waist darts at front are a detail that makes different from other skirts..
I had a small piece of wool fabric, about 0.60 m, a remnant bin find.. On center of that piece there was something written with yellow marker, and it was not removed after washing.. I didn't have much fabric to work with, but I bought that remnant having this skirt on my mind.. After sewing all pieces together (main fabric and lining), and trying on the skirt, something was missing.. There was nothing interesting.. I delayed sewing the back seam, inserting a zipper and hemming the skirt until I think of a way to make it better.. It turned out that scallops are my go to technique for making simple lines look more fun, and you'll be seeing more projects with this detail.. Wide scallops at hemline were the best solution for this skirt..
While making the skirt, I realized that I needed a new cropped top.. Perfect opportunity to try free pattern from Grainline Studio – Hemlock tee .. My only change to the pattern is making the tee shorter..
More photos on my blog ..