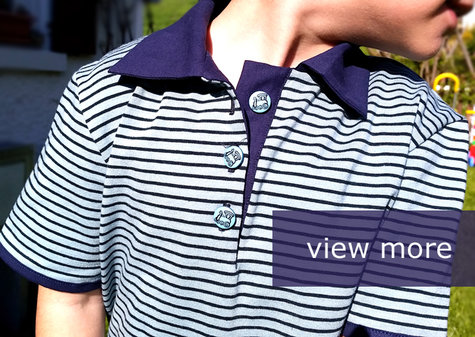 Welcome to this week's post y'all!
Now and then? Some of you moms might now think I am crazy. Some moms sew almost everything for their kids, so why am I holding back when there are so many beautiful, unresistable fabrics to choose from in pastel blue and pink. Ain't it fun to sew with this patterns and colours? Of course it is but you also have to consider the fast growing of our kids, or their taste sometimes they end up not likeing what you sew for them "but mommy, I just don't like no octopus on my shirt"… and the piece will end up forever in the closet. And last but not least. kids clothes get dirty, ripped and striped with coloured pens. So let's be veeeery honest: sometimes I do kids clothes but I rather focus on my own wardrobe and/or do things for other grown up's. But of cooooourse there is one or another piece on which I just can't resist and which then lands on my sewing table ;-) so happened with this polo.
The poloshirt was the task for school we had to do next. I rarely wear polo and doing one for my husband is still too risky for me (it's got to be perfect…lol), so I decided to go for this cute piece. I found the fabric once more (can't say it enough times) in my absoluuuuutely favourit shop Stoffart in Feuerthalen and the buttons downtown in Bernina. I was lucky to find such matching buttons, since I often have my struggles with finding the right button for my project, which will lead me to do my own buttons soon… but back to the subject. A pattern had to be found. Way back in the April issue of 2010 I found what I was looking for (I've got a bit of a pattern stash, yes…) I decided to do the collar and the button bar in dark blue and for the very first time I used my Janome Cover Pro tape binder. Well I have to tell you that if you want to excercise yourself in patience you can just buy one of these. After I had consumed a few jards of fabric and threat and time and YouTube tutorials and some nerves, I figured it out. I promise you, the moment you are holding the perfect result in your hands makes you feel like superwoman, like there ain't a thing in the world you couldn't handle! :-) :-) :-) and I will tell you a secret: every time I look at the polo I can't help but staring at that neatly finished sleeves… ain't that nice?
So for now I leave you with #nevergiveup #superwoman #keepontryinguntilyouseethelightattheendofthetunnel ;-)
I wish you a wonderful week, stay sew-focused and happy sewing!
Big hugs from my sewing atelier to yours, see you in my next post. Bye!!