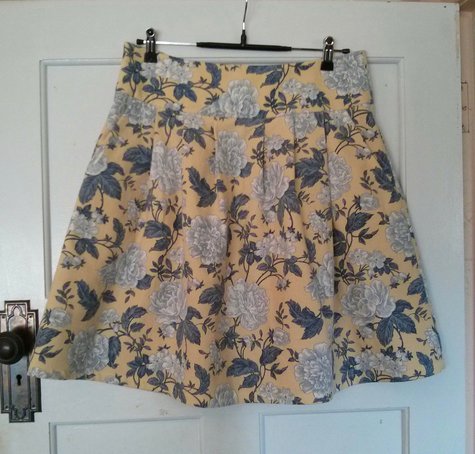 The waistband from this skirt is one I traced off a favourite RTW skirt, with the skirt portion being Simplicity 2698 view I (without a hem band). Having already made view F and being suitably unimpressed, I was apprehensive about trying this pattern for a second time. Luckily, the skirt of view I is much more flattering – it has a great flare and 'swing' to it. The slash pockets are just the right shape and size.
This fabric is a remnant found in the garage (why?) from which I had already made a pencil skirt. It had a few rust stains on it so I had to be very creative with my cutting and remove quite a bit of length from the skirt to make it fit. There is still a tiny little stain that I missed but it isn't visible from the right side. I also found a weak patch at the centre front of the skirt (d'oh!) so that was stabilised with a bit of Whisperweft.
To make the skirt fit my waistband, I just played around with the pleats until they looked good, so don't take my version as a true representation of the pattern. After making the skirt up and trying on, I really liked the length. So the hem is finished with a satin bias facing, just something I had on hand. It turned out pretty ripply but hey, who's going to see it?