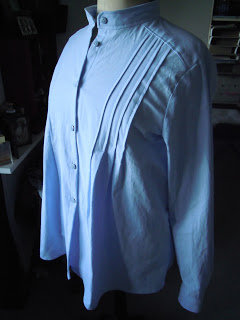 I have stitched up three fresh summer shirts so far this year. One of them was the Kenzo wiggly peplum number and another was a 'Margaret Howell' camp or 'boyfriend' shirt, already reviewed here.
Meanwhile, light blue seemed to have its moment in the last week or two, judging by the German Burda's choices pictured for July and the Guardian newspaper's recent fashion pages. And blue is my favorite color.
So with some super-cheap IKEA cotton, home-dyed the requisite color of a clear day in spring, I turned to a beloved Burda 'grandfather shirt' pattern, sewn earlier in thin white batiste (when I was recovering from a Serious Illness and almost thirty pounds lighter, also pictured here.)
This pattern is from my favorite issue of all time, April 2010. When I ran up the blue version, I lengthened the sleeves about two full inches.
For more on this, go to http://chanelno6.blogspot.ch/