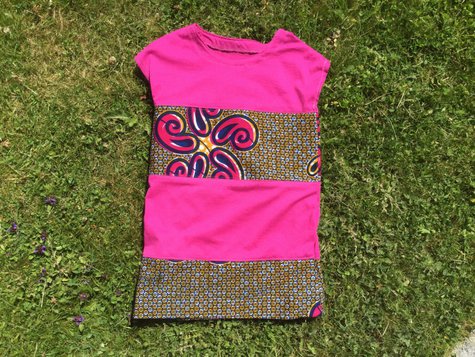 This is the 4-tier ,cross-stitch dress that I made for ciar, a 2 year old. I made a very similar one for Nora some time ago and as it turned out to be a hit, I just did it again, luckily with the same result!
I adapted a pattern of one of my daughter's dress from Petit Bateau, a very simple one since the whole dress (body and sleeves) is cut in 1 piece (ie, 1 for the front and 1 for the back).
Then divided the pattern in 4, so I could get to play with bands of pink jersey and african print fabric.
I cross-stitched each band for a professional finish. I used an invisible stitch for the bottom edge since I wanted to have a clean finish and not disturb the eye from the rich pattern of the african print fabric.
I like the result so much that I'll probably use the 4-tier, cross stitch idea for a tee shirt – this time for me! What do you think, is it an idea that you will use for you or your kids?