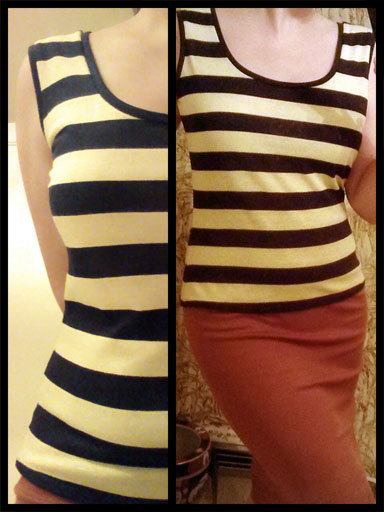 Burda Style Tank Top 6019
This is my second project sewing project, first pattern, ever! This is definitely an easy and stylish top to make. The sizing is very accurate. I made a 40, but I probably should've sized up to a 42 in the bust. There is only a ~3/4" difference in the measurements, so I thought it would be okay with the stretch in the knit, but it tends to ride up over my chest a little.
Couple of things about this pattern. The instructions are terrible. They look like they were scanned from a magazine and then transcribed using a text recognition program, that led to a lot of errors in the text and strange foreign characters where it could not recognize the font. No one bothered to proof read it, apparently. The pictures don't seem to match up with the instructions either, so I think the pages were collated out of order. Luckily, I had done a lot of reading about sewing t-shirts before I attempted it so I knew how to attach neck/arm bindings and didn't need them.