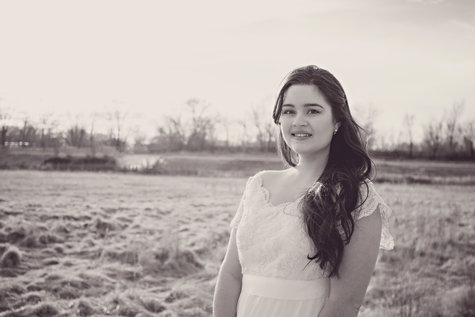 This is the first wedding dress I've ever made, and goodness was it a learning experience! Made from a lovely silk crepe de chine, silk chiffon, and corded lace this dress was an exercise in details. A good friend from graduate school asked if I would make her dress, as she was not finding anything in the shops she liked and she loves supporting artist friends. Her name is Tamar, so this dress is named after her.
We were able to settle on the skirt and sash pretty quickly (it's actually the same as Stephanie's wedding dress skirt), but the top took some time. First we had to make the neckline perfect, slightly v-shaped, low enough to open the space around her face up, but not too low! The lace applique took roughly 36 hours – I had to cut out each individual motif and sew it to a top made from netting. I also used invisible thread (aka thin fishing line) which I am happy about using for the effect, but it was challenging to work with! The lace has a thin metallic silver thread running through it, which added a lovely dimension to the lace. I had never made a button closure like the one on this dress, but was happy to find that a local shop had both the buttons and elastic cording I needed to complete the top. True to form, the night before she was flying out to her wedding in NM, we were finishing the dress by sewing the lace top on to the under dress until 6 hours before her flight left!
I love this dress so much, it's one of my favorite pieces that I've made, especially that lace top.
As usual, if you click over to my blog there are larger versions of these pictures!