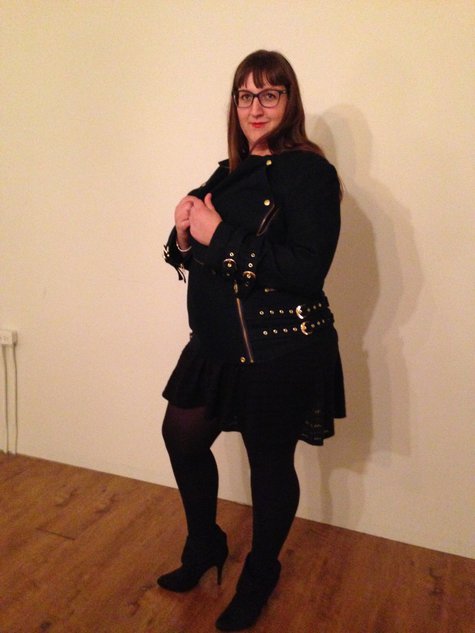 I liked a Balmain jacket that I saw online in January 2014, saw the price tag, and told myself I could make it for a fraction of the cost!!! And I did !
I used pattern # 0011 from BurdaStyle Special A/W No.5/2013 to create a sloper for fitting. Then using pictures I found on the internet, I drew in the design lines to make it similar to the Balmain jacket. This is the first time I attempted such a project, and it ended up with 'I am determined to do this'. So a year and half later, I finished my jacket in time to enter it into the local fair, where it won first prize, and the Judge's Choice Award for the sewing section. (bragging) :-)
It features lightly quilted shoulders, quilted top 2/3rd of the sides, four zippered pockets, eight buckled belts and wrist zips. There are a total of eight zippers, and they all had to be shortened. I had to purchase them all the same length so that the pulls, teeth size, and colour tone of the teeth would all be the same. The buckles were hard to find at a reasonable price, but I eventually found them at Dressew Supply in Vancouver, BC. The front zippers can be worn in several different ways, as they zip into each other. The jacket is fully lined, with a center back pleat.
The sad part is, the jacket did not look good on me. I talked with my girlfriend, and she thought her middle daughter would like it. So I took it to the mainland for the birthday party, and that daughter immediately loved the jacket. The younger daughter also tried it on, but the middle daughter was claiming it as her own. (Sorry, the pictures are a little dark, taken with a cell phone.)