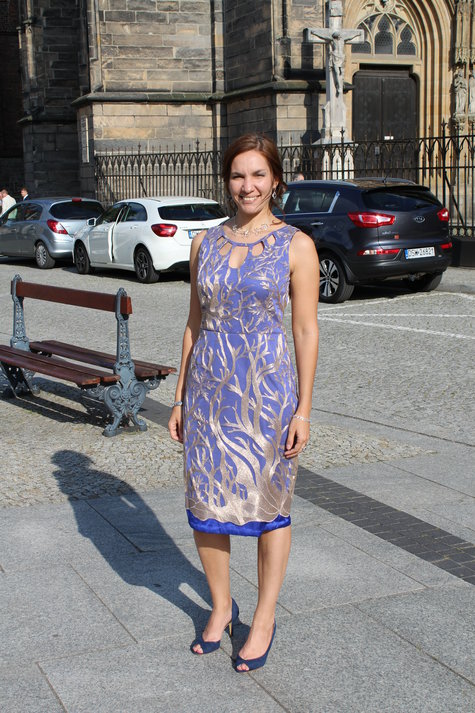 I went to a wedding in Poland last week. The theme was blue and/or gold, so I thought I'd wear this dress, but unfortunately after washing (read shrinking), it didn't look that good anymore on me.
So I had to make something new…I knew I wanted to make this pattern as I've fallen in love from the beginning and already bought it, but had no idea in what fabric, so I just went out and looked at what's available, and here's the outcome: Embroidered tulle in rose gold on top of a layer of satin in royal blue.
The satin is a bit too light-weight for the purpose but I didn't find anything better and I was fed up by then, but the tulle supported it enough (mostly).
The sewing was easy enough, I cut all pieces apart from facings and button loop in both fabrics, basted them together and treated them as one, faced the same issue as everybody who made this before me: Turning the teardrop cutouts right side out was a bit of a pain, but I managed in the end after calming myself many times "Breathe Maria! Breathe!".
I also found a button in my stash and coated it in a piece of the blue satin and liked how that turned out :)
Got a compliment from the bride herself so I guess I nailed her style :D
Photos are made in Swidnica, Poland by my little sister in front of Swidnica cathedral on the wedding day (the shoes were painful, that's why I'm standing a bit weird :D). The last photo is with my husband and the bride at the wedding locale in the same town.