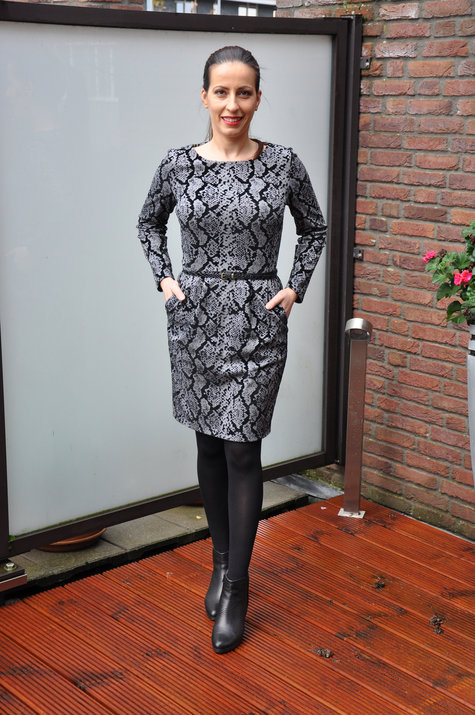 This dress coms from the "La maison victor "magazine, issue sep-oct 2015.
I decided to make this after seeing a very nice red version on a dutch sewing forum.
The dress is very easy to make, I think the most time consuming was cutting the pieces out , I cut everything in one layer because of that print . Also tracing the pattern was not really fun, I ended up using baking paper and that worked perfect.
The size range is from 30 to 48. I used size 38 for the upper body , 36 in the waist (body and skirt) and grading to size 34 at the hips. I find that the fit is really nice, specially over the bust and at the shoulders.
The back neckline I find a little high, I think I will make that a little lower in a next version of this dress.
I`ve made the pockets a little deeper and the sleeves from 3/4 in full length.
Also I reinforced the CB zipper seams with interfacing, the pattern ask for interfacing only at the pockets.
Almost everything is sewn with my serger, except the zipper , neck facing and the hems ( done by hand).
Also the pattern instructions says to insert the sleeves in the round, I did this flat , directly with my serger( I was courageous , hahaha), no pinning or anything …it went perfect, so happy !
I am very happy with this dress!
For more pictures please see my blog