Wardrobe Basic: Summer Wool Blazer
Added Apr 28, 2012
by pambox
Sydney, Australia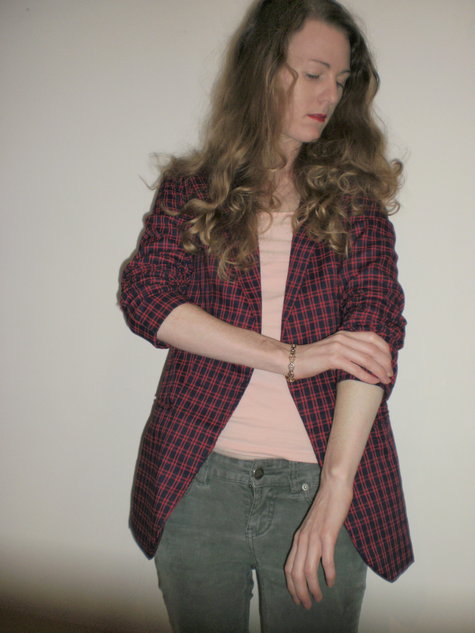 ShareThis
Description
I decided to start making a few basic standard items that you're apparently 'meant' to have in your wardrobe but that I lacked. So this is item number too in my very intermittent series, a blazer in lightweight navy and red wool check.
The blazer is summer weight, the wool is quite a loose and light weave. It's getting cold here now, so this probably won't get much wear for a while – I had planned to make it over the summer, but time got away from me.
I used pattern 7 from the Japanese sewing book She has a Mannish Style (that has to be one of the best titles ever). I had a few problems, the pattern is in Japanese (of course!) and doesn't include seam allowances. I remembered to add the seam allowances for the main part of the jacket, but forgot it for the lining. I was half way through putting the lining together, wondering why the sleeve just wouldn't fit in the armscye when I realised what I'd done. Fortunately I had enough fabric that I was able to cut out proper pieces. The language issue was a minor problem, too. There are diagrams, but I got confused with the collar, so it's actually attached back to front. It still fits and looks nice enough, so I didn't bother to change it.
I'm fairly proud of this, everything sits together quite neatly. The sleeves aren't perfect, but I think I've come to accept that I just can't do perfect sleeves. But I am very proud of the pockets! No buttons to do the blazer up, the fabric would fray too much, and I liked the more casual open look.
Material Notes
Lightweight wool
Lining
Difficulty
Advanced
Categories
0 Comments