Wanted a vest, didn´t want to spend a fortune.
Added Nov 16, 2009
by thildehelt
Nexø, Denmark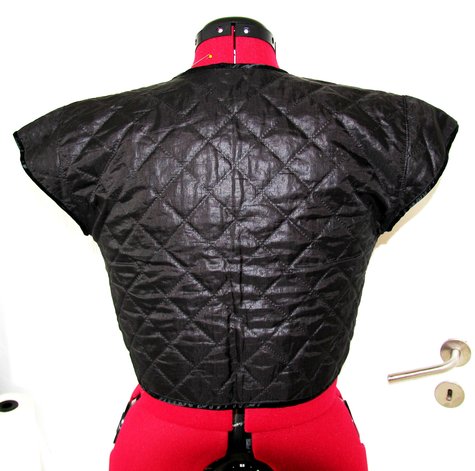 ShareThis
Description
After having seen several fashionable women in different types of vest that where obviously the new "hit", I look at what those types of vest would cost. And seriously I was not prepared to spend about a thousand kr ( about 200 dollars I guess) o a very small piece of garment.
The thing about these new vest that are so popular is the texture or quilted effect that all the new designers are experimenting with.
Then my creative/secondhand-addicted part of the brain kicked in to gear and I remembered the thermoclothes that kids wear in daycare ( i´ve been an intern at a daycare).
Those garments have the quilted effect and are easy to find in a secondhand store.
So I bought a black thermo jacket that was suposed to fit a 8 year old boy. Cut the arms, buttompart of the bodice, collar and the patch on the chest, off. Then I sewed on a black ribbon as lining around the vest.
voila a new fashionable vest.
Material Notes
A black thermo jacket for a child, ( you should not be able to fit into it while it still have arms. When the arms are cut off it will feel a lot bigger´. I´m usually a size 44 and I used a jacket for an 8 year old. )
A black ribbon
Difficulty
Novice
Categories