Urban Warrior - Recycled
Added Oct 26, 2008
by tklexi
Gold Coast, Aust...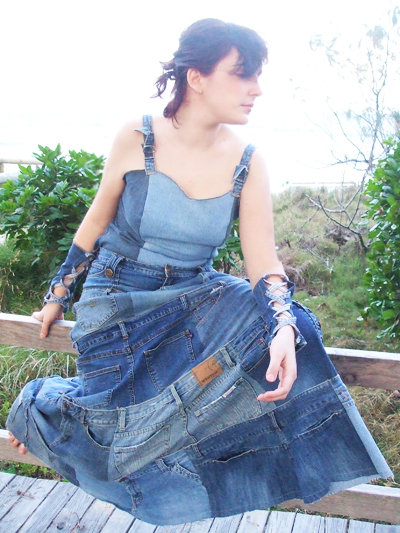 ShareThis
Description
There is a distribution centre near here for one of the charities, and they sell off all the stock they don't ship out to their stores by the kilo, chop it up for rags, or throw it out. I was slightly horrified when I discovered a silk dress, silk velvet pants and a beautiful jacquard coat that if I hadn't of taken them, they might have been chopped up for a mechanic. There are apparently always dozens of pairs of jeans at this place, with either tiny tears at the cuffs, or looking a little run down. Sometimes they end up with so many for their stores that perfectly good ones will get thrown out. Having discovered this wonderful place on the advice of one of the St Vinnies staff, the recycling challenge was the perfect excuse :)

Having entertained the warehouse crew quite thoroughly by digging through chest high piles and donning the most vibrant of 80's leftovers, I left with about 15 pairs of jeans, and some unique garments I couldn't resist, I set out on my project: A denim gown.



I put aside a pair that was my size to make the waist/first layer of the skirt.



Then I cut the rest of the pants off at the waist, putting the legs aside for later use. I'd estimated about 12 pairs of jeans, but a few plus sized pairs cut that number down a bit. I think I ended up using 10.



The pants were all different sizes, so I cut them all at about 25cm down from the waist. I then cut them along the side seams, seperating them into fronts and backs. I arranged them out to form a full a-line skirt. Mostly they already flared towards the bottom, but as I sewed each row together (measuring it against the row above it), I diagonally cut any excess away from the bands without taking any of the width of the bottom. I left the bottom edge raw, sewing a straight stitch 1cm from the bottom so that the fraying at the bottom would remain decorative rather than damaging.



It's worth noting that I'm 178cm (5ft10) and this skirt was really gown length, brushing the floor even in high heels, even after I'd sewn very generous overlaps for each layer. You could easily go as little as 20cm for my height for an ankle length skirt.



It was actually alot easier than I'd thought, and quite fun- more like a craft project. However, going over some of the seams and belt loops I was getting horrible tangles on the underside. squirrellypoo's "topstitch denim" tutorial quickly set me straight and things went smoothly.



I'd been planning something more formal, but trying on the skirt it was really quite comfortable. It is a little heavy like any formal skirt, but the denim fabric made it less of an issue, because I felt no need to be careful or proper in it. So I decided to be a bit more playful, and make the top less tailored and tidy than I'd originally thought.



I actually ended up making three different tops. Without the worry of interfacing, lining and hemming things move surprisingly quick. Which was really quite lucky as my '2 week' challenge had turned into a 2 day challenge.



Two of the tops were roughly corset based. The simplest one used buckle straps I'd found on the bottom of one of the pairs of pants.



The other had a more 'tank top' shape, using part of one of the leftover waistbands as the closure, and pleated denim strips for the artistic, deconstructed collar. I was vaguely playing with an "urban warrior" kind of idea. At some point I think I'd like to try quilting over denim to get a kind of armour look. I might try to stiffen up the collar, because it's only sitting right in one shot. It was meant to lay inwards at the chest, turn upwards around the neck and fall open at the back, creating a nice textural kind of arc.



The third was just a trapezoid, gathered about 6cm from the top edge, using a waistband to close the the back of the neck, and a strap accross the lower back to hold it open.



I didn't have time to make the gauntlets quite the way I wanted (I only discovered this challenge three days ago! and it took a whole day to get my materials and stop procrastinating). Just a basic shape with slits cut into it, threaded with pant seams. I'd like to do it again with eyelets or grommet tape and ribbon.



The little pile of scraps left over by my overlocker, and other cutoffs looked pretty awesome in their little pile, so I laid them out on one half of a 1m by .5m peice of Solvy (leaving in cut off peices of overlocking stitch and the occasional bit of white pocket linging), pinned it all over, then zig-zagged stitched a grid over the top of it. I rinsed it til the Solvy dissolved, and ta-da. It's not dry yet in the photo, but you get the idea :)



Those left over legs aren't going to waste either. There's a skirt or two, a tie, a bag, some decorations, and who knows what else left in that pile. I want to try combining the denim with some other fabrics, but it'll be interesting, because of the very different weights. And all the jeans seem to be different weights too.



Going through that warehouse was awesome, but was also a good reminder how much clothing and cloth is wasted! Some of it was a lost cause, but they really don't make anything like the fabrics from the 80's anymore :P
Material Notes
11 pairs of jeans, thread, 1mx.5m Solvy, and a black zip.
Difficulty
Novice
Categories
Oct 27, 2008, 06.48 PMby gma

Oct 27, 2008, 04.12 AMby anajan

Oct 26, 2008, 01.56 PMby mjb14