Tinker Bell Costume
Added Mar 16, 2012
Kota Kinabalu, M...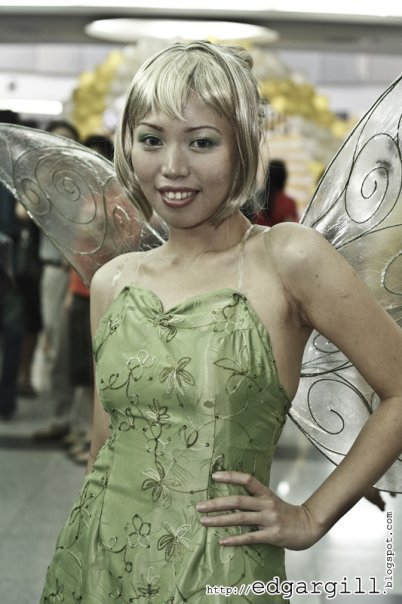 ShareThis
Description
Here's my Tinker Bell costume (and first ever dress) that I made with help from my close friend and sewing "guru". It wasn't very difficult but I had a lot of problems figuring out how to keep the dress from falling. I'm not experienced with boning then, even now, so in the end I just used transparent straps to keep the dress in place. Oh yes, I made the wings as well :)
Note: A few people asked how I did my wings. I had the intention of making a tutorial back when I was in the process of creating it. But the phone I used to capture step by step pictures of the process got infected my some virus and wiped out all of the pictures before I was able to transfer them to my PC. Anyway, I got the idea from the person who created miniature wings for her dolls over at flickr. She's amazing! She even created the wings for her Tinkerbell doll (here's the link http://www.flickr.com/photos/nerea_mei4life/3114220884/).
I just figured out how big I wanted the wings to be and drew the wing (frame and veins) on a large piece of paper. After that, I traced the drawing with wires, using thicker wires for the outer frames and thinner wires for the inside veins. The veins were done separately, I sectioned them instead of using one wire all at one go. Once that was done, I combined the frame and veins by wrapping the wires with floral tape (this depends on your own creativity, how you would go about to wrap the wires). When the wires were wrapped, I sandwiched the wing frame with "glass paper" (it's something like those clear plastic papers used to wrap hampers but they shrink when it comes in contact with water). I applied PVA glue on the wire frame and wet the "glass paper" one section at a time. And when the "glass paper" dried up, it sort of tugged itself around the wire frame and looked every bit like a fairy's wing.
Material Notes
For the wings:
1) Large piece of paper
2) Wires (I cannot recall the sizes I used)
3) Floral tape
4) PVA glue
5) "Glass paper" (something like the clear plastic paper used to wrap hampers, but it will shrink when it comes in contact with water)
Difficulty
Intermediate
Categories