The Secret Garden Ballet Tutu.
Added Oct 31, 2008
Tweed Heads, Aus...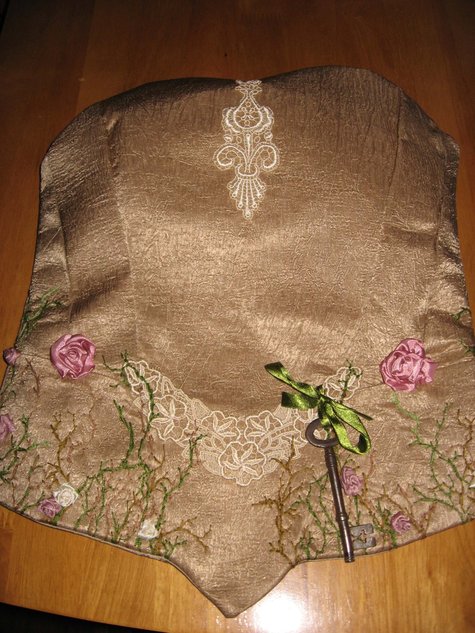 ShareThis
Description
The initial inspiration for creating a ballet tutu came from an incredible experience of seeing Queensland's ballet 'With Attitude 2007' performed. This stimulated the idea of creating a tutu, yet it was an embroidered doily that inspired the warm, antique colours and flowers.
The flowers sparked a familiarity to the images, ideas and themes seen in the film 'The Secret Garden'; where love, passion and imagination is unlocked, allowing the freedom and growth of feelings, dreams and even life.
The ballet is traditionally distinguished for graceful, elegant and poised ballerinas, wearing ornate costumes to communicate the feelings, moods and role of the character.
This tutu is designed to be suitable to be worn in the ballet The Secret Garden, bringing to life the dramatic anticipation of the garden being unlocked, to unearth the secrets the garden holds and to reveal the graceful blossoming of the flowers growing over the ballerinas' body.
Choosing to design a tutu has given me the opportunity to explore a variety of creative and innovative techniques, conveying the beauty and elegance of flowers and growth.
An innovative approach to the structure and design of the bodice is established by the use of interfacing, lining, boning and the zipper, all of which help to create a strong, firm structure. This bodice symbolises the walls surrounding the 'secret garden'. The flowers are on the outside, as the 'garden' has been unlocked, and are therefore free to grow and bloom.
The traditional 'Pancake' tutu would bob and dip when the dancers' skirts brushed up against one another, this movement of the tutu would continue long after the steps were complete. By creating the 'Powder-puff' tutu it allows an innovative approach to the original 'Pancake' tutu; this is formed by shortening the skirt, making the tutu layers self-supporting and allows the dancer's legs to be fully visible.
To communicate and incorporate the inspiration from the colours and flowers of the doily and the feelings and passions from The Secret Garden, the creative techniques of ribbon embroidery, appliqué and beading are used to create flowers, stems and vines; which add to the affluent appearance of the garment and discloses importance of beauty and growth.
Difficulty
Novice
Categories