Swiss dot Sweetness
Added May 10, 2011
by juebejue
San Jose, Califo...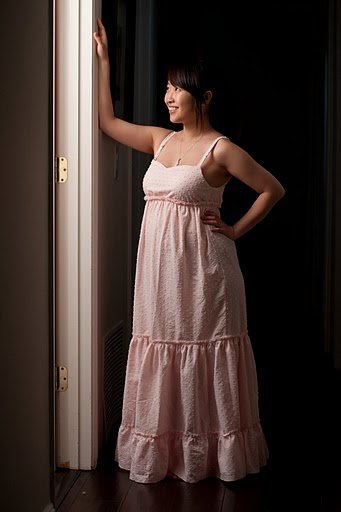 ShareThis
Description
I saw Angelina Jolie wearing this Maxi dress during her maternity month and I want it! So I decided to make one — it is probably tons cheaper than hers!
I decided to use the Tara pattern from Burdastyle for the top portion. But for some reason, when I was making the top part, I didnt want too much cleavage showing. I had made a cute, and wearable for maternity Tara last summer and sometimes I wish the top is slightly more modest. So I kind of changed the front two "bra" pieces into a single slightly heart lined one piece. Then I attached straps with bra rings adjusts so that I can adjust the length depending on my boob size.
After the top, it is just all rectangles! I had to do some math here since I had JUST enough fabric to finish this floor length dress. I liked the proportions of the 3 chunks on Angelina's dress. I think the proportions are about 8:5:3. The upper chunk looks about equal to the total of the lower two chunks, and the middle chunk is almost twice the lower chunk.
I measured my height from bust to floor, assuming I would be wearing flats with this dress. It is about 40 inches. So my upper chunk would be 20 inches. And I had this border embroidered fabric. The borders were about 7 inches, perfect for lower chunk. This leaves about 13 inches for the middle chunk.
I also wanted to make sure that the width of each chunk is 1:2:4. So each chunk would be twice as much volume as its previous chunk.
So with those constraints, I solved an x y equation, and successfully managed to use all the fabric without any waste! I was going to bore you with the xy equation, but i just dont have the heart I just think its cool when you can use math during sewing!
You can also visit my blog!
Material Notes
Cotton swiss dot
Difficulty
Novice
Categories
May 12, 2011, 06.44 AMby tracyx

May 10, 2011, 02.14 PMby Syl .