Suit Yourself
Added Oct 13, 2011
New York, New Yo...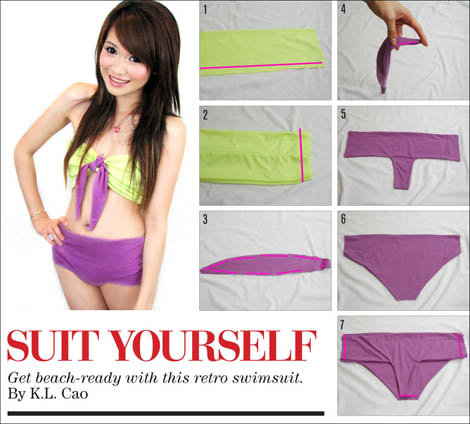 ShareThis
Description
THE PROJECT: High-Waisted Swimsuit
What you'll need:
2.25 M (2½ YD) OF FOUR-WAY STRETCH-KNIT FABRIC
TO MAKE THE TOP:
STEP 1: Fold one edge of the knit over so it's approximately 12.5 to 17.5 cm (5 to 7″) wide, with right sides together. Cut along the edge of the folded knit, making a long rectangle. This rectangle should be long enough to fit around your bust.
STEP 2: Fold the fabric right sides together, lengthwise. Sew along the raw edge of the fabric, making a tube. Then invert the piece of sewn fabric so the right side is facing out. Arrange the tube of fabric so the seam is placed in the middle when laid flat.
STEP 3: Fold the fabric you just sewed into a tube in half, and sew the raw edges together.
STEP 4: Cut two thin pieces of fabric from the knit you'll use for the swimsuit bottoms, and place them with right sides together. Sew, making sure to leave one side unstitched. Flip the sewn fabric so the right side is on the outside, and sew up the opening. Secure the tie piece around the centre of the top so it covers the seam.
TO MAKE THE BOTTOM:
STEP 5: Measure the circumference of your hips, add a 1.25 cm (½") seam allowance, and then cut a piece of fabric in a T-shape for the front of the bikini. The top of the "T" should be half your hip measurement (plus seam allowance) on either side. The bottom should be as wide as your crotch.
STEP 6: For the back of the bikini bottom, cut the fabric so it's triangle shaped and all three corners are cut off. The three seams (for the crotch and each hip) should be the same length on the front and back pieces.
STEP 7: Put the front and back pieces of fabric together (right sides together), and sew the right, left, and bottom straight edges. Flip the bottoms inside out and finish any remaining raw edges.
SEWING TIP: When using stretch knits, you should always cut smaller than your measurements so the fabric will stretch to hug your body.
Categories
Credits
written by

K.L. Cao

originally published on
0 Comments