Slow summer dress
Added Jul 22, 2012
by teaandcakey
Cambridge, Unite...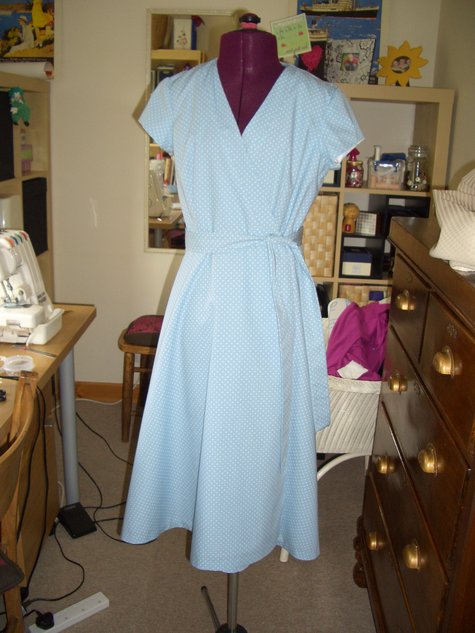 ShareThis
Description
A wrap-dress for work from Butterick see & sew B5166. I bought the fabric on my honeymoon and it took me so long (3 yrs) to start it that I am expecting TeaAndCakey Jr, and so long to finish it that my bump is now too big to fit in it. So, modelled here by Persephone my dress form. I guess this is a dress for future TeaAndCakey. Apologies that Persephone is a bit curve-lite, which makes the dress hang badly – I promise the dress will be a lot better fitted to me!
Last time I make this up (http://www.burdastyle.com/projects/dotty-day-dress), I'd completely re-drafted the bodice. Since I clearly am a sucker for more flat pattern cutting, this time I re-drafted my sleeves to remove more height from the sleeve cap and make the sleeves into cap sleeves. From my altered bodice, I also re-drafted the front edgings and facings. Since the pattern makes no provision for lining, and I love a properly lined garment, I also drafted the lining pattern, rather than making it up as I did last time. You know how the patterns never fit back in the original envelope easily? Well now mine really doesn't.
Material Notes
Pale blue and white polka-dot cotton fabric, lined with a lightweight white lining fabric which I really like. I've made a covered button for the closure on the outside, and intend a flatter button on the inside. However, waiting to attain normal girth before fitting this bit!
Categories
Credits
Pattern

Butterick see & sew B5166