Shari
Added Oct 8, 2007
By burdastyle
New York, New Yo...

Step 9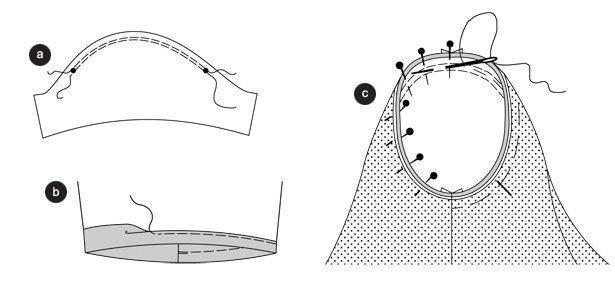 Sleeves
To create the sleeve cap, stitch twice and parallel between ● and ● using a long, loose basting stitch. Space out the gathers. Fold the sleeve lengthwise, right side inside. (a)
Stitch sleeve seams (seam 7). Trim allowances, neaten altogether and press towards one side.
Fold and press the sleeve hem, fold again and pin. Stitch the hem. (b)
Apply sleeves
To ease the sleeve in, first tighten the under threads of the seams slightly.
Pin the sleeves onto the armhole right sides facing. 4 points are essential for the fit of the dress when you apply the sleeves:
The cross lines of the top sleeve and the front piece have to meet. The cross line of the bottom sleeve has to meet the side seams. The cross line of the sleeve rounding has to meet the shoulder seam. The gathers of the sleeve have to be spaced out to prevent pleats. Baste and stitch the sleeve from the inside of the sleeve. Trim allowances, neaten altogether and press inwards into the sleeve. ©
Neaten the bottom interfacing edge.
0 Comments on Step 9
Patterns for this Project
Produced by BurdaStyle