Sewing Fashion Accessories
Added Oct 13, 2011
New York, New Yo...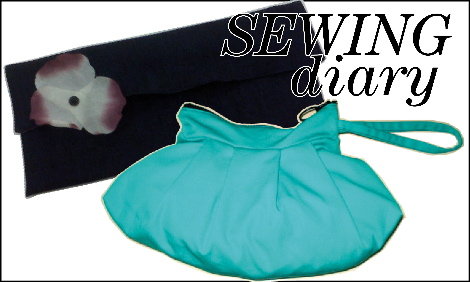 ShareThis
Description
Dear Diary,
I am such a wannabe stylist. I act like my small armoire – and I mean small – is a fashion house of beautiful pieces of clothing ready to be worn by a celeb and photographed by the paparazzi hanging outside my small bungalow home in the happening and trendy city of Ajax ('cause, you know, Ajax is truly Hollywood North). And just like a true stylist, I know that it's not just about the clothing but the accessories as well. Pairing the right accessory with the $20 bargain buy you found in a lonely sale bin at the back of Gap or Zara can increase the chic factor of an outfit tenfold.
What could possibly be any chic-er? Making your own one-of-a-kind accessories!
I'm very lucky to work with some great people at The Sewing Studio. Amazingly creative people who challenge my personal fashion sense (and make me jealous-but that's besides the point).
Take Ivana M., for example. Her style is that effortless street-cool that I could never replicate for myself; even her hair is fashion (she does super things with her bangs). Anyway, Ivana is always creating and sewing really cool accessory pieces that can be modified to suit any style, any age, and any look.
Then there's Clara, who although fairly new to sewing, pays an obscene amount to detail. Obscene. Just this past week, for our kids class, she took a standard headband pattern but made it look totally modern and practical – thinner elastic, pretty fabric, and chic ribbon. Not only could you wrap the headband around your hair, but you could fashion it into a belt to cinch a t-shirt dress and give it a whole new silhouette.
If you truly love fashion like we love sewing, then use sewing to your advantage and be your own accessory stylist. Let sewing be the means to speak and showcase your own personal style. One-of-a-kind accessories are the things stylists look and live for. Sure, they can put together a great outfit, but it's the accessories that individualize the whole "skinny jeans with a loose tee/tunic/oversized sweater" look. Here are three easy-to-sew accessories that will solidify your new position as your own accessory stylist.
A clutch. I've seen Ivana sew up more than enough clutches and in fact my favourite is one she did with a cute ruffle. She used denim but imagine the variations you can get just by changing up the fabric or adding a different detail. The pattern for this project is easy and you can find several online. Even for a beginner seamstress, a project like this takes less than a full afternoon. You can make yourself several in various sizes and styles … After all, what proper lady never needs some sort of purse?
Brooches. Our studio director, Kristina, first introduced me to this simple project. She made various floral templates using cereal boxes and then traced the shapes onto complementary colours of fabric and felt. She'd piece them together and then secure them in the middle using a random button. Modernize or make it more age-appropriate by using tougher items like leather, denim, or vintage brass buttons instead. Pin these onto a classic blazer or leather jacket for a whole new look!
Fabric belts. Ask any stylist. A belt is always a good thing to have. Something as unfussy as a kimono wrap belt can add to a look, make something fit better, or just give you shape. Again, the right fabrics are key, but let's all take a page from Clara's book. For her Kids After School class, she encouraged the kids to discover all the various stitches our machines had to offer by having them create designs on the belt. She had them stitch, for example, a double zigzag from one end to the other. Take it one step further and use different colour threads throughout!
Categories
Credits
written by

Stephanie Daga

originally published on
0 Comments