Scallop Button Up Skirt
Added May 7, 2011
by nettevivante
Nordrhein Westfa...

Step 1 About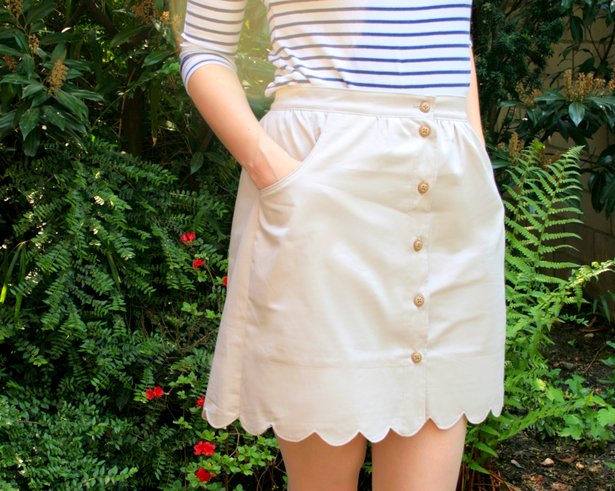 Sizing: I made this pattern to fit my size (waist 67cm; hips 90cm), which is usually a BurdaStyle size 36. The finished waist-band will be about 78cm (actually it is 82 cm, but due to the button up front you will lose about 4cm), so that the skirt sits on middle waist. Length of the skirt is about 45cm.
How to enlarge: I am by no means a professional, but only self taught. Anyway, I think I have made up a way to enlarge this pattern. Additional to the size 36 pattern there is an 'optional scallop for enlargement'.
Measure your waist about where you want the skirt to sit. Be sure to lengthen the waistband when you cut your fabric. That is, cut a waistband (on fold) with the length of:
waist measurement + 4cm (button up front) + double seam allowance
For example, if you have a waist measurement of 85cm, then cut a waistband with the length of:
85cm + 4cm (button up front) + 2cm seam allowance = 91cm.
Remember, if you are cutting on fold, to cut only half the length. In this case that would be 45.5cm.
In order to keep the skirt ruffled, even if you enlarge the waistband, you will need to attach the optional scallops to the ♥ markings on pattern pieces 3, 4, 5 and 6 before cutting your fabric. Depending on your waist-band enlargement add one or several scallops and you will receive less or more ruffling.
Printing: I used A4 sized paper for this pattern, but it should work with smaller ones, too. Set your printer on 'no scaling' or rather '100%'. I have also added a little test square, which should be 10 × 10 cm. Tape the pattern and cut it.
0 Comments on Step 1
Patterns for this Project