Roland Mouret Knockoff in Wool
Added Mar 9, 2011
by lauramae
Novato, Californ...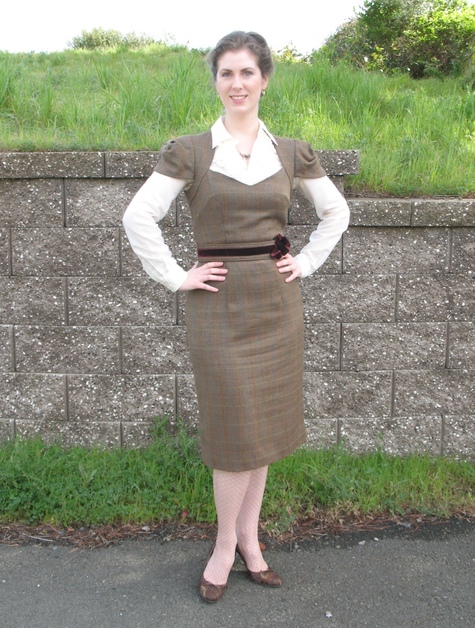 ShareThis
Description
Vogue 8280, Roland Mouret "Galaxy" Dress: Fitted dress, lined bodice, back zipper closing with front flange. A, B, E, F: back slit opening. C, D: pleated lower section. Armhole and sleeve variations. A: sash with hook and eye closing. I chose View B.
This is another version of Roland Mouret's Galaxy Dress. I made this up in January 2008 and it has been hiding in my closet for a while – the long-sleeved version of this dress I just completed reminded me that this dress existed!
I love everything about this pattern (other than the directions). As I mentioned previously with the long-sleeved version, these instructions are rather annoying. View B refers back to A, refers back to C, etc. No one step is extremely difficult, but the lack of clarity of the directions is extremely frustrating. I have not come across anything like this in the newer Vogue patterns, so hopefully the bad writing has been improved upon for good!
My wool is from a dear lady that was the receptionist in the building where I work. She had two skirt lengths of this wool in her stash, and generously gave them to me – we used to talk about our sewing adventures together on her breaks (I miss that!). She was my first indication that I was not the only seamstress that hoarded fabric. The color of the wool is not something that I would have chosen for myself, but I have received so many compliments on the dress that I may have to rethink my color palette.
Examining the dress, I am quite pleased with my work from a few years ago, although I wish I had known about rayon seam binding when I constructed this dress. I pinked the edges of my wool, but it would have been nice to have finished those edges off completely.
My plaid matching is quite good on the front and back, however, the sides do not quite match up (something that I would have improved on had I made this up today). I love how much we learn from every sewing experience – two or three years makes a real difference in technical ability.
I omitted the three decorative buttons on the front bodice as suggested for View B because I did not feel they added anything to my dress. And I added a skirt lining (a simple duplicate of the skirt).
View B does not finish off the sleeve seams. As I recall, I did not realize this until I got to the final stages of construction (shame on me for not reading all the way through before beginning, but the directions on this particular pattern are so frustrating it is understandable). I ended up finishing off the bodice as if it were sleeveless, finishing the sleeves, and then hand-sewing the sleeves to my bodice. This worked quite well to finish off the edges.
I also added a self-fabric belt to my ensemble. The wine-colored velvet ribbon is stitched on the belt as added interest – instead of a bow, I played around with velvet loops and then tacked it down. Because I could not find any belting that was wide enough, I added small strips of boning placed vertically at the center back and sides of the belt for stability. The belt is closed with two large hook and eyes.
After languishing in the back of my closet, I believe this dress is back in my wardrobe rotation! And I am sure I will be pulling this pattern out time and time again – the lines are extremely flattering.
Material Notes
Wool plaid suiting; Bemberg lining; netting (scraps used for sleeve heads); vintage velvet ribbon
Difficulty
Intermediate
Categories
Mar 10, 2011, 02.19 PMby anajan