Rave Squad
Added Mar 27, 2012
by pambox
Sydney, Australia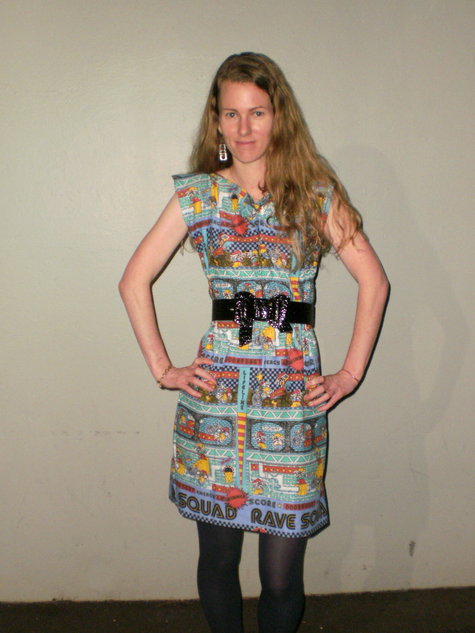 ShareThis
Description
I swear, this is the world's most nineties fabric ever. It's like the year 1992 was just turned into cloth. It's Commander Keen meets the Fresh Prince of Bel-Air starring Poochie (presumably this is where he went when written out of Itchy and Scratchy). Probably while listening to Kris Kross. And playing pinball. And then it says Rave Squad on it, for no reason I can fathom. i have no idea what's meant to be going on on this fabric, but i love it.
If you haven't already gathered, this dress is fairly simple but the fabric is bafflingly amazing, so I'm mostly just going to talk about the fabric. the fabric is a refashioned sheet, bought for about $3 from a nearby salvos which always has amazing remnant fabrics and odd finds. it was actually found by fellow burdastyler Ezzles (who also took these photos) who suggested I buy it, and it really doesn't take much to convince me. Particularly when a fabric is as kitsch as this. And a steal at $3 – really, who doesn't want a dress with dogs wearing sunglasses, suspenders, and backwards caps riding motorcycles with the words 'broom' 'pow' and 'braam!' written everywhere? The colours are fantastic, too – cornflower blue, soft jade green, muted red, canary yellow. Bright, but not overpoweringly so. But I really want to know how and why someone came up with this fabric, it's just so wonderfully strange. It also says 'winner', 'score', 'energy', and 'lifeline', as well as having a bunch of numbers that I guess are meant to be the scores or something? I'm really not sure.
I guess I should quickly describe the dress. It's made from half a children's bed-sized sheet, cut in half again vertically. The two pieces are sewn together at the sides up to the armholes, and then one line of stitching on each shoulder. It is double elasticated, at the waist and the empire line. To do this, I cut another piece of the fabric about 12cm wide and stitched it to the inside of the dress, two lines of stitching 1cm apart at the top, two lines of stitching 1cm apart at the bottom (i.e. at the empire line and the waist). I left them open and threaded in some elastic, sewed the ends together, and sewed the gap up by hand. To keep the neckline down I used embroidery thread, hand sewing evenly about 6mm apart from the centre front down about 8cm, and tied the ends together. I'm wearing the dress with a belt here, but could just as easily wear it without.
Material Notes
Cotton sheet
6mm elastic
Difficulty
Novice
Categories