Pleated Skirt with detachable Suspenders
Added May 12, 2013
London, United K...

Step 1 Matrials needed + cutting out the fabric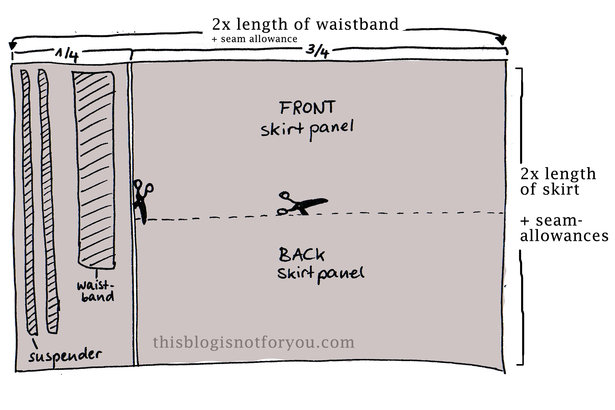 You won't need a pattern to make this skirt.
All you need:
- fabric (about 1m/40" wide and 1,5/60" long, depending on your waist measurements and the length of the skirt you prefer)
- invisible zip (ca. 25cm/10" long)
- trim (1,5-2m/60-80")
- elastic band, 4 buttons
For the skirt you need fabric that is about two times as wide as the width of your waistband.
So first you need to decide how high you want your skirt to sit. Mine is a bit lower than my waistline. Measure the circumference of the part of your body where you want the skirt's waistband to sit (and don't forget to add about 2cm/1" of seam allowance on each side before cutting out!)
Use this as reference for the following calculations (the picture below also makes it much clearer):
- The length of the skirt panels is three times as wide as half the length of your waistband. For instance, the length of my waistband (excl. seam allowance) is 75cm. So each skirt panel will be gathered into half the length of the waistband, so 37.5cm.
Since we are making 'box pleats' we need three times as much fabric, so 37.5 × 3 = 112.5
If your fabric is wide enough, simply cut it in half two get your front and back panel. The top seam allowance of the skirt panels equals the width of the waistband (mine is 4cm).
To make the waistband and suspenders we don't need a lot of fabric.
My waistband is 4cm wide. Since you need to fold it over later on, the overall width is 8cm plus seam allowance.
I made the suspenders rather narrow and used strips of each 4cm width (1,5cm wide + 0.5 cm seam allowance, so they are in the end of the same width as the trim).
0 Comments on Step 1