Pleated Circle Skirt 05/2012
Added May 15, 2012
Munich, Germany

Step 1 Draft and cut the circle skirt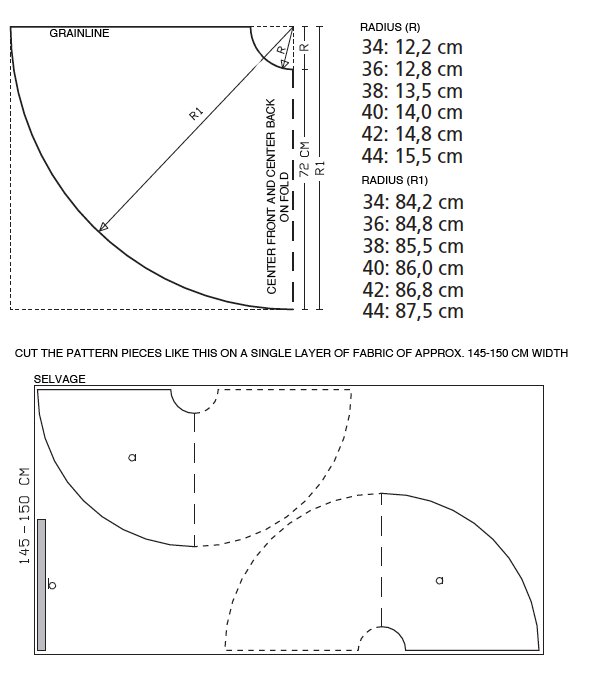 Follow the diagram to make a full-sized pattern piece for the skirt panel (a) as follows: On a large sheet of wrapping paper, the upper edge and the right edges must form a right angle, stretch a thread from the upper right corner to mark the radius® for the upper edge of the skirt panel. Also mark the radius (R1) for the hem line. Or measure the length of the skirt down from the upper edge of the skirt panel at several points and then connect the points in an even curve to mark the hem line.
Seam allowances:
Seams 1.5 cm (5/8 in), no allowance on lower edge of skirt panel. On the upper skirt panel edge, include 5 cm (2 ins) allowance to account for the pleating. Hand baste along the waist line to mark it.
Cut the two skirt pieces according to the cutting diagram.
Also draft and cut the following pattern pieces:
a) skirt panel according to diagram, cut 2, on a fold,
b) waistband with 3 cm (1 1/4 in) underlap, length: 67 71 75 79 83 87 cm (26 1/2 28 29 3/4 31 1/4 32 3/4 34 1/4 ins), width: 4 cm (1 1/2 ins), with a finished width of 2 cm (3/4 in).
Interfacing: Iron to skirt waistband.
0 Comments on Step 1
Patterns for this Project