PJ McRomperson
Added Jun 28, 2010
by littlewren
Rutledge, Pennsy...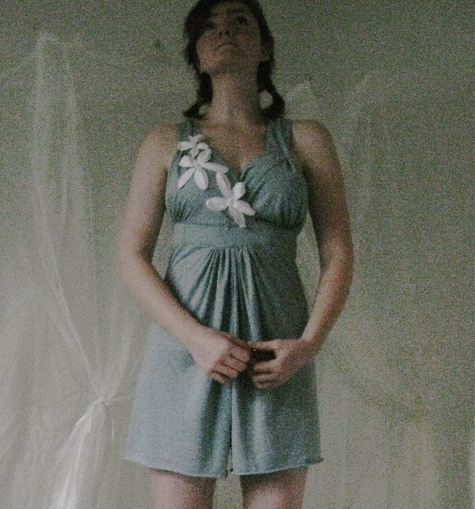 ShareThis
Description
Pajamas are meant to be soft, comfy, snugly, perfect… and I have to say I own the perfect pair of PJs! My mom bought them from the LLBean catalogue and gave them to me for my 14th birthday. I was too embarrassed to wear them to friends houses because they were so frumpy, but I loved them because they were so comfortable. When I was packing my stuff to move into my new apartment with my new husband I looked at them, and threw them in the trash… they were old, frayed, quite frumpy, yes, and… just my favorite pajamas EVER… I quickly ran and fished them out… apologized to them and threw them in the wash. They came to Saskatchewan with me, to England, to my semester in Italy, and yes, now to China. I just had my 27th birthday and figured out that they are… yes… 13 years old! whew! some old pajamas… and though I still wear them and love them it's time to add a new member to my pajama drawer.
Rompers? I said to myself disgustedly as I looked at the magazine. I have fond memories of the ones I wore in elementary school… that one with pastel bubbles on it… and those collared ones with cherry print… they weren't so great… The more I saw, the more I liked what I was seeing! On a recent trip to Thailand I found the romper for me and couldn't help myself… and last week I realized I needed more! Thus the birth of this lovely, soft, comfy, petal dusted romper. I didn't use a pattern, just figured it out.
My struggles were… making the bottoms way too long… and then making the cups way too small. I ended up adding an extra band in the middle which made them a bit bigger than I'd usually like (I asked my husband if it looked too much like an old lady swimsuit up top… he just said I looked beautiful… which could be evasion, if it came from anybody but him… he's good at giving me constructive criticism… thank goodness!! : ) I love the buttons on the back and the wide straps that cross just a bitty bit. Just enough that the straps won't slip while you sleep! : )
I'm really excited to wear it on nights when the breeze can't get through our mosquito netting… It'll be nice and cool!
The white flowers? well… the magnolias are in bloom here… I get caught looking at them on my way back from class… get caught looking out our window at the tree behind us… they are so beautiful… couldn't help preserving a few of them on my pj's!
Material Notes
Went to the capital city of our province… In a scrap bin I found this cute little brown dotty star print on the dusty blue… it had a HUGE miss print in the middle and across the fabric… I bartered with the lady and got a pretty good deal for it! Again, all hand sewn… hand sewing stretch fabric is beastly, but I survived… and will live to sew another day!
Difficulty
Intermediate
Categories
Credits
Most loyal security blanket ever

sweet blankie… who came to china with me!
Jun 30, 2010, 04.04 AMby nessys

Jun 28, 2010, 05.31 PMby lizah