Paola Plus
Added Nov 23, 2009
By burdastyle
New York, New Yo...

Step 9 SLEEVE & CUFFS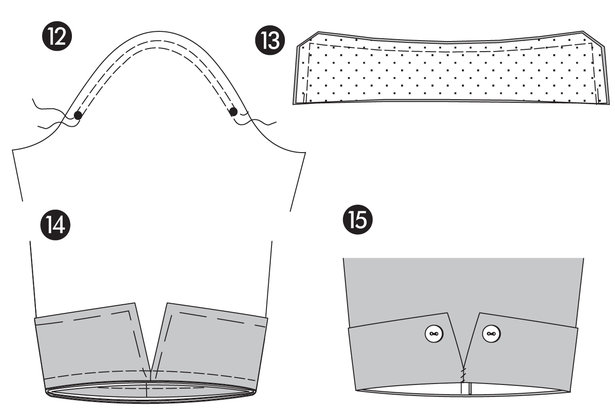 SLEEVE
12 To ease the sleeve curve, double stitch from * to * using basting stitches. Fold the sleeve lengthwise, right sides facing.
Pin sleeve seams (seam number 7) and stitch. Trim allowances, neaten and press to the side.
SLEEVE CUFF
Position an interfaced and a non-interfaced sleeve cuff piece together, right sides facing. Stitch top (without seam number) and narrow edges together. Trim allowances and cut the corners at a slant. Turn pieces, pin and press. Position the open edges together and pin.
Position the right side of the sleeve cuff on the wrong side of the bottom sleeve edge, The interfaced cuff piece faces the sleeve. The narrow edges meet (seam number 8). Stitch cuff. Trim allowances and neaten.
Turn the sleeve cuff outside. Press the sleeve edge. Position the narrow edges together and stitch around ½" (1 cm) from the edge by hand to hide the allowance. Sew the BUTTONS on the marked spots on the cuffs, enclosing the sleeves.
0 Comments on Step 9
Patterns for this Project
Produced by BurdaStyle