Paola Plus
Added Nov 23, 2009
By burdastyle
New York, New Yo...

Step 10 SLEEVE SETTING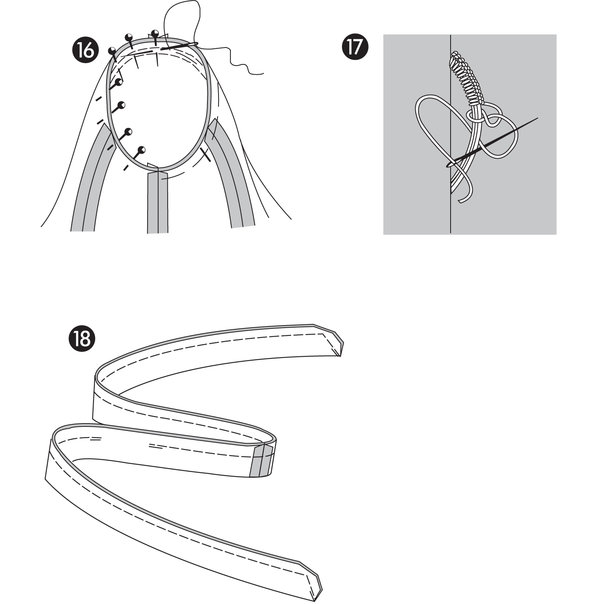 APPLY SLEEVES
To ease the sleeve curve, tighten the bobbin threads of the seam line slightly.
16 Position the sleeve on the armhole, right sides facing. When applying the sleeve, 4 points are important for the right fit:
The cross lines 9 on sleeves and front piece have to meet. Sleeve and side seams have to meet. The cross lines on the sleeve curve have to meet the shoulder seams. The eased width has to be distributed in a way that prevents pleats or does not pucker. Pin and stitch the sleeve from the sleeve side.
Trim allowances, neaten and press inside the sleeve. Work BUTTON HOLES into the right front piece. Work the same top button hole also into the left front piece. Sew the BUTTONS on the markings X (corresponding with the button holes) on both front pieces. At the right front piece, sew another button on the back of the top button (to button the left front piece).
SNAP BUTTONS: Apply the tops of the snap buttons on the markings X on the placket of the right front piece. Accordingly, the bottom pieces of the snap buttons need to be applied on the left front piece.
LOOPS
Sew a thread loop at the side seams between the cross lines according to the image. Join the cross lines through multiple stitches; then wrap threads around the loop.
BELT
Position the belt pieces together, right sides facing. Stitch the center back seam. Press allowances apart.
Fold the belt lengthwise along the fold line, right sides facing. Stitch edges together, leave an opening. Turn the piece inside out. Pin edges, press and topstitch narrowly. Stitch the opening. Pull belt through the loops.
0 Comments on Step 10
Patterns for this Project
Produced by BurdaStyle