Nora
Added Apr 6, 2009
By burdastyle
New York, New Yo...

Step 10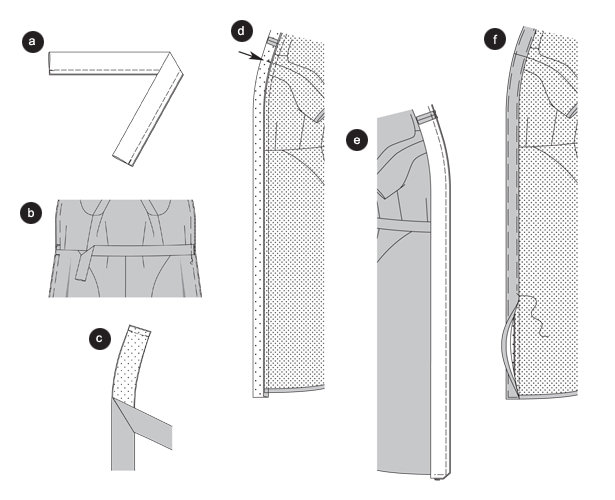 BELT
Fold the belt along the fold line, right sides facing. Stitch the long edges together. Trim allowances. Turn the belt and press (a).
Position the belt on the skirt seam line. Pin the ends between the cross lines on the front edges (b).
PLACKET
Position the interfaced plackets together, right sides facing. Stitch the center back seam. Trim allowances narrowly and press apart. Topstitch the center seam of the interfaced plackets ©.
Pin the interfaced plackets on the front dress edge (seam 8/16), right sides facing. The center back seam meets the center back of the bodice; the cross lines meet the upper sleeve seams (arrow). The placket allowance overlaps along the hemline. Stitch. Trim allowances and press inside the placket (d).
Position the interfaced and non-interfaced placket together, right sides facing and the center seams meeting. Stitch the plackets along the front edges and hemline edges. Trim allowances (e).
Fold the edges of the non-interfaced placket inside. Pin the edges and press. Pin the placket on the seam line. Topstitch the placket along the front edge and along the seam line narrowly, thereby enclosing the inner placket edge or sewing it by hand on the seam line (f).
0 Comments on Step 10
Patterns for this Project
Produced by BurdaStyle