My Little Brothers Cool Surfer Shorts
Added Jun 29, 2010
by angelical
Århus, Denmark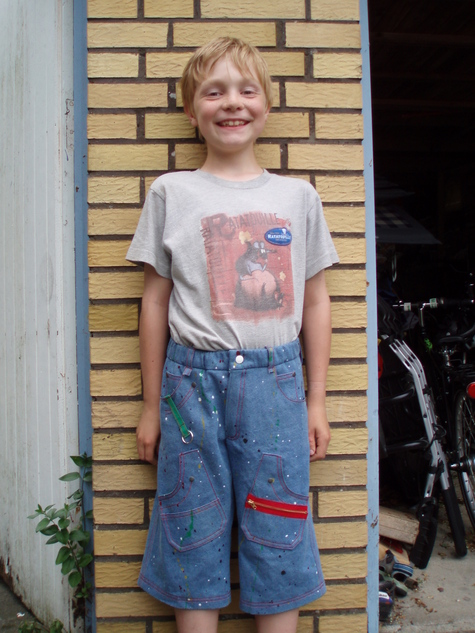 ShareThis
Description
My mother is constantly sewing pants for my ever-growing little brother (he is 9 years old). Therefore, she cuts and sew 3-5 almost identical pairs at a time.
I have been wanting to try sewing pants/jeans with fly for some time now, and convinced her to let me sew one of 3 pairs of surfer shorts, so I could practice sewing the zipper and fly.
It´s the first zipper/fly I've EVER sewn, and I´m very proud of the result.
The fabric is a very soft, light blue denim with paint spatter all over it. The pocket facing, front pocket zipper, belt loops (2 of 5) and back pocket flap facings are all in contrasting colors that differ from each of the 3 pairs. The top stitching is the same color as the zipper on the front pocket.
My little brother helped me a little… he wanted to learn to sew, so I let him push the pedal while I pushed the fabric through the machine. He was very excited about the project and wants to wear them tomorrow!
While sewing, he found an ugly iron-on application-thing with a tractor motif in my mothers stash and wanted in on the shorts. I was against it at first, but he kept bugging me about it. A star shaped stencil, some white fabric paint and some red zig zag stitching later, I actually like the back pocket…
My mother sewed the elastic in the waistband, but everything else is made by me and my little brother!
the pattern is from a dutch magazine "knippie". we took 2 cm of the top and added 4 cm total in the width around the hips.
Material Notes
0.75 m of a soft, light blue denim with paint spatter, 7 rivets, 3 buttons (2 white and 1 black), red tread, a key ring, a red zipper (8 cm), a light blue zipper (12 cm), different colors of thin cotton for facings and belt loops (white, green and black), an iron-on application with tractor motif, 4 cm wide elastic band
Difficulty
Intermediate
Categories