Laura
Added Apr 4, 2007
By burdastyle
New York, New Yo...

Step 10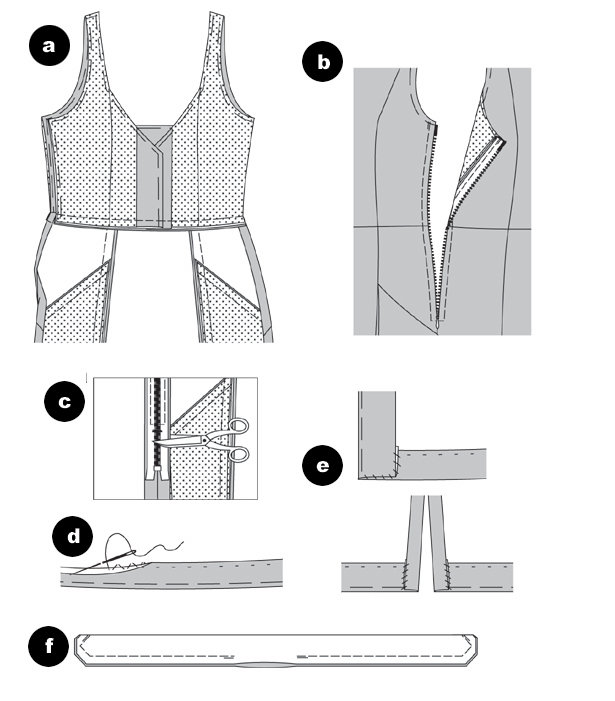 Stitching Bodice
Add in BUTTON holes into the right front edge. Pin the right front piece middle on middle onto the left one, pin the lower edges onto each other.
Pin the bodice right sides facing onto the skirt edge, so that seams are meeting. Pin the waist seam (seam number 10) and stitch together. Trim seam allowances, serge them held together and iron them into the skirt. (a)
Zipper
Fold the seam allowances over to the inside at the slit.
Pin the zipper underneath the slit edges so that the teeth are covered up. Fold over the ends of the zipper band at the top. Stitch the zipper to the garment with the zipper foot. (b) Should the zipper be too long, tie it off at the slit end and cut it ©
Seam/Slit
Tear the basting stitches at the slits. Apply facing and addition to slit.
Trim seam allowance, fold over and iron. Attach the seam loosely by hand (d). Turn the slit's seam allowances and facing back over to the inside, sew them onto the seam (e). Add the BUTTON HOLES into the back middle
skirt piece. Attach the BUTTONS at the underlap. Sew buttons in the front middle onto the left front piece. Also sew buttons onto the front side skirt piece to match the flaps.
Belts
Fold belt lengthwise, right side inside. Pin edges one to the other according to the drawing and stitch, leaving an opening to turn it later. Secure seam ends. Turn belt. Pin edges, iron. Stitch edges neatly, closing the opening.
Add in BUTTON HOLES. Sew the BUTTONS onto the waistband. Button belt. (f)
0 Comments on Step 10
Patterns for this Project
Produced by BurdaStyle