Lace Leggings 06/2012
Added May 23, 2012
Munich, Germany

Step 3 Sewing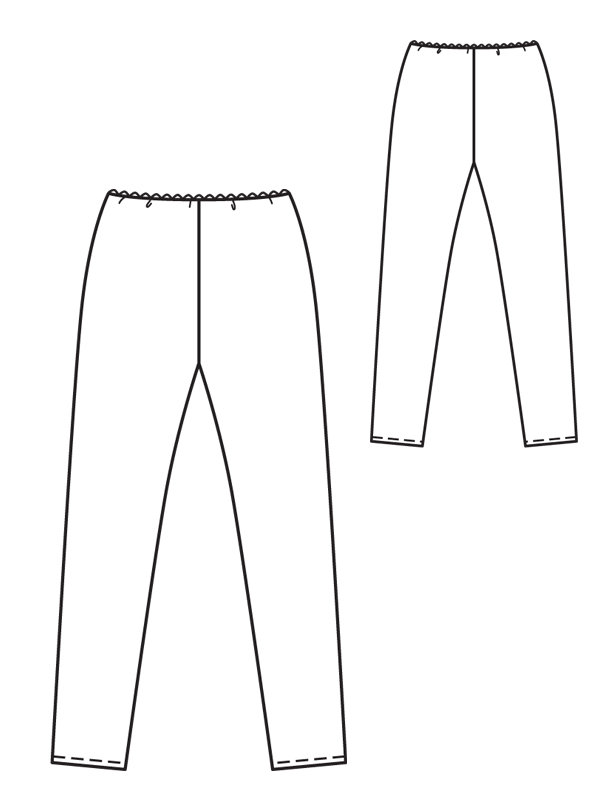 Note: Stitch seams on stretch fabrics with a special stretch stitch or at a narrow zigzag setting. Stitch hems with a twin machine needle to keep them elastic.
Lay legging pieces right sides together. Stitch centre front and centre back curved crotch seams.
Trim seam allowances to 7 mm (1/4 in) wide, neaten together and press to one side.
Fold each leg right side facing in and stitch inseams as a continuous seam, matching up crotch points. Trim seam allowances, neaten together, and press onto back.
Stitch ends of lace trim together to a circumference of: 60 64 68 72 76 80 cm
(23 3/4 25 1/4 26 3/4 283/4 30 31 1/2 ins).
Spread seam allowances flat open and stitch in place. Mark the centre opposite the seam. Lay lace trim on upper edge of leggings, right sides facing, so that straight edge of trim lies on seam allowance and scalloped edge lies on the garment piece. Pin seam of trim to centre back seam and pin marked centre to centre front seam. Stretch trim to fit and stitch to upper edge of leggings. Turn trim up, turn seam allowance down, and press.
Work from right side of garment to stitch along line of centre front and centre back seams, catching the trim.
Turn hem allowances up to inside, turn raw edges under, and baste. Work from outer side and use the twin needle to stitch1 cm (3/8 in) from lower edges.
0 Comments on Step 3
Patterns for this Project