Knot-rug for my beloved one
Added Jan 20, 2009
by kamelia
Ilulissat, Green...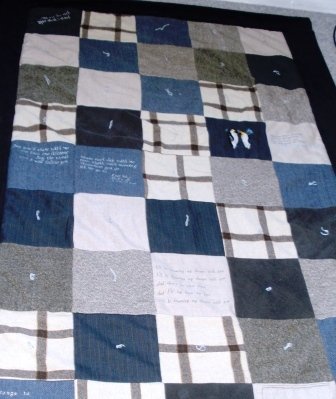 ShareThis
Description
I wanted to make a real cumfy blanket/rug for my husband…But many blanket get to look a bit too feminine, and I didn't want that at all… So I found this idea in an old handwork-book; a picture of a blanket lying in a real mens room/library… So cool… It is kinda like patchwork, but with very large squares (20×20cm), polarfleece (very very soft!) on the back and every square is tied together with the fleece on the back, with a little knot of woolen yarn in the center…, makes it more masculine I think!! I also made it a lot bigger and longer than normal rugs… Then I had to find some fabrics to go with it… I went to a Red Cross/thrift shop, and bought a lot of old woolen mens suits, in blue, grey, brown and beige colors… Washed them thoroughly, and cut up the jackets… For one of the squares I used the pocket, as a funny detail…, and he can always hide his sweets in it, while it's wrapped around him…
A friend of mine has this really cool sewing machine, that can embroid whatever you imagine.., so I borrowed it and wrote on some of the squares (you know.., things that meen something special…, in this case I used diffrent lines from songs that reminds me of him!!) It turned out so well and it so warm and big enough to keep us both warm.
Material Notes
Dark grey polarfleece, old suits, light blue woolen yarn and midnight-blue velvet for the border…
Difficulty
Novice
Categories
Credits
My friend for letting me borrow her precious valuable machine!!!