Kathrine
Added Mar 23, 2009
By burdastyle
New York, New Yo...

Step 8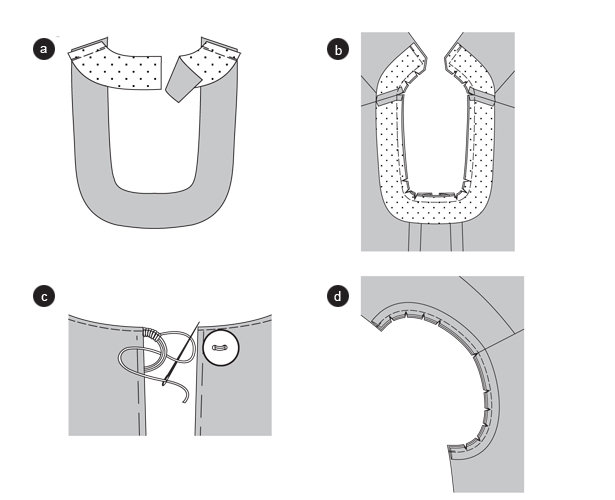 NECKLINE / FACING
Position the front and back facings together, right sides facing. Stitch shoulder seams (seam 5/11). Press allowances apart. Neaten facing edge. Turn back opening allowances (a).
Pin the facing on the neckline and the back opening edges. The shoulder seams meet. Stitch. Trim allowances and snip in. Cut the corners at a slant. Fold the facing and allowances inside. Pin, then press. Stitch the facing on the allowance of the shoulder seams. Topstitch the neckline and opening edges narrowly (b).
Sew a thread loop onto a back slit edge according to the picture. Apply the button on the other edge ©.
ARMHOLES / BIAS STRIPS
Fold the bias strips lengthwise, wrong sides facing. Press. Trim the allowances along the armhole to _' (1 cm).
Pin the bias strips on the armhole, right sides facing. The raw edges are positioned on the allowance. Topstitch the bias strips _" (1 cm) narrowly. Trim allowances and snip in. Press the bias strips inside the armhole and the allowances inside the dress (d).
Related Techniques
0 Comments on Step 8
Patterns for this Project
Produced by BurdaStyle