I Sea A Skater Skirt
Added May 29, 2012
by roisins
Woking, United K...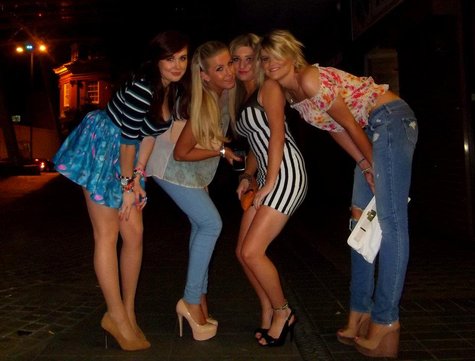 ShareThis
Description
I'm sick to death of going out eating too many jacket potatoes or drinking too many red bulls and getting bottom belly bloat, so i thought ahhhh i have this wonderful blue fabric that i will make a skater skirt out of! I bought the fabric because it reminded me of scuba diving in the Caribbean and anything that makes me think of swimming is in my good book. The only photos i have are from a night of drinks with my work friends and collecting my other half from a bar after the West Ham play off finals/Chelsea Munich game!
The way i made it was:
1.Measure out width of waist and length from waist to however far you want it to go down(mid thigh in this case)
2. Taking your fabric you measure out the length of your waist and the width (x2) of how thick you want the waistband, i use 2inch elastic to give it stability and then sew along the length of it to hold the elastic in place.
3. With the remainder of your fabric line it using interfacing and fold once along the edge to create your bottom seam, the double fold keeps any of the frayed edge from poking out and looking unslightly.
4. After this i maded sure the length was right and started folding my fabric to how i wanted the pleats to lay. Thus giving the skirt its fullness, i used box pleats that in some places overlapped, mainly around the hips to make them look larger (and waist look smaller….cheeky)
5. Once this pleating is complete pin then to your waist band, next pin in your zip, i recently bought a zipper foot (best thing everrrr), and attatch via pins to waistband and skirt edge (you can double fold this too but it can get rather chunky at times)
6. Stitch everything together and if need be go back into some of the pleats with a needle and thread if you're worried about strength of the thread (you could waxed your thread before hand stitching).
Material Notes
Fabric design by J. Manes Co. (Underwater)
Interfacing cheap polyester or something found in a charity shop.
Difficulty
Novice
Categories