How to Make a Basic Skirt
Added Dec 31, 2010
by Jamie Lau
Brooklyn, New Yo...
Step 6 Draw in your front dart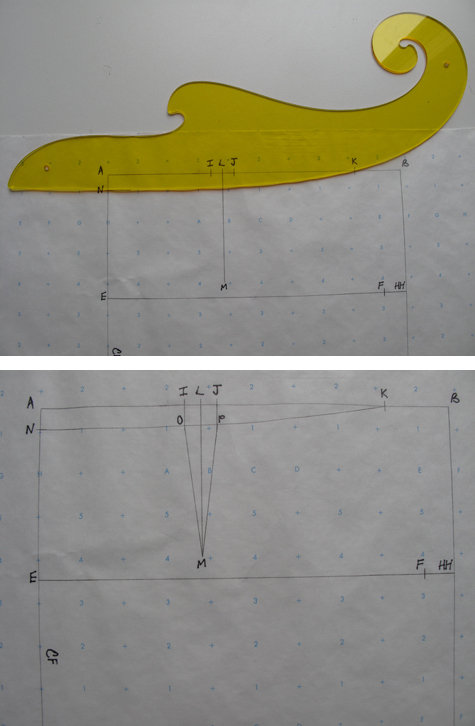 Using your front dart width measurement (3/4 inch), determine your front dart length with the following guide (Dart width – Dart length):
3/8 inch – 3 inches
3/4 inch – 3 1/2 inches
1 inch – 4 inches
1 1/4 inch – 4 1/2 inches
In this example, the front dart length would be 3 1/2 inches. Divide your front dart width (3/4 inch) in half to find the center of your front dart width (3/8 inch) and mark L. Draw a straight line down from L to indicate your front dart length (3 1/2 inches) and mark M.
Drop down 1/2 inch from A along center front and mark N. Square off 3/4 inch at center front in a right angle starting at N, then use a drafting curve to shape your front waist, ending at K.
Maintaining the same dart width, bring your dart legs (I and J) straight down to your newly drawn waistline and label O and P respectively. Connect your new dart legs (O and P) to the apex (M). If necessary, adjust the top of P, the second dart leg, so that it is the same length as the first one (O).
Fold your dart in half along the line drawn for the front dart length (L to M) and, using a tracing wheel, score across the waistline over the dart bulk so that it is flush with the waistline. Unfold and draw in the new shaping.
Excluding the front dart width (O to P), measure the distance between N and K to make sure that it equals your front waist calculation (7 3/8 inches) and adjust K as necessary.
0 Comments on Step 6