Hikaru
Added Nov 20, 2007
By burdastyle
New York, New Yo...

Step 8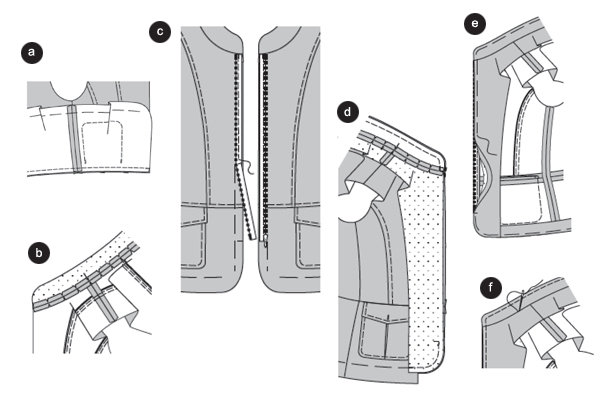 Stitch Peplum
Baste the right sides of the peplum onto the lower edge of jacket (seam number 10), matching side seams. Stitch, catching in flaps. Press seam allowances up. Topstitch seam 1⁄4" (0.7 cm) wide. (a)
A Stand Collar
Stitch interfaced stand collar piece onto the edge of the neckline (seam number 5). Stitch other stand collar piece onto the facing: likewise, the matching markings of the collar meet the shoulder seams. Trim seam allowances, trim curves and press apart. (b)
Zipper
Open the zipper and baste it facing down onto the front edges from the collar downwards. Important: To have the zipper concealed on the finished garment the zipper bands and teeth must be positioned onto the allowances. Fold the ends of the zipper bands inwards. Stitch zipper using the zipper foot of your sewing machine. ©
Baste stand collar pieces together for view A and baste facings on fronts. Baste collar pieces together along the joining seam. Stitch. Baste facings on fronts below zipper. Stitch. Trim seam allowances, also on collar. (d)
Turn collar. Turn facings and hem to the inside. Baste edges, press. Turn allowances including the zipper at the front edges towards the inside. Turn in the facings and baste onto the zipper bands. Topstitch the front edges (use a zipper foot) and collar 1⁄4" (0.7 cm) wide, enclose the zipper and the facings. End line of stitching
at inside edges of facing (e). Pin the collar seams together and sew them together by hand from the left side (f).
ABC
Stitch hem loosely by hand.
0 Comments on Step 8
Patterns for this Project
Produced by BurdaStyle