Heidi Prom Dress Variation
Added Apr 14, 2008
By burdastyle
New York, New Yo...

Step 1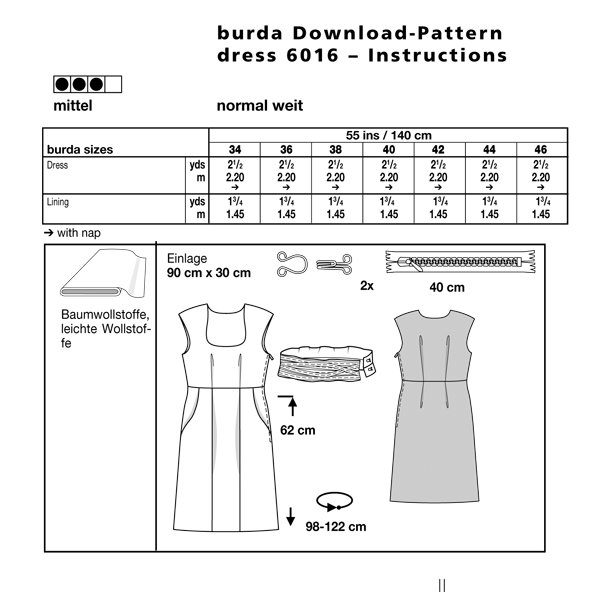 PATTERN (6016 Heidi dress)
1 Front piece 1x NOT NEEDED
2 Front center skirt panel 1x NOT NEEDED
3 Front side skirt panel 2x NOT NEEDED
4 Pocket pouch 2x NOT NEEDED
5 Hip yoke piece 2x NOT NEEDED
6 Back piece 1x NOT NEEDED
7 Back skirt panel 1x YOU NEED!
8 Lower front belt 1x OPTIONAL
9 Lower back belt 1x OPTIONAL
10 Top front belt 1x OPTIONAL
11 Top back belt 1x OPTIONAL
12 Strip 6x NOT NEEDED
13 Lining for front and back skirt panels 2x NOT NEEDED
PATTERN BS-018 Prom Dress Variation
1 Front piece 1x YOU NEED!
2 Back piece 1x YOU NEED!
6 Front Skirt 2x (or 4x depending on layering) YOU NEED!
Fabrics: Satin, silk, taffetta, tulle, organza, chiffons, lace
PLEASE NOTE! For the prom dress, you will only need to use pattern piece 7 from the Heidi dress pattern. You will need to print out the additional BS-018 prom dress pattern for the top front/back and front skirt patterns. You will end up modifying the skirt patterns in order to get the length and shape that you want. The belt for original Heidi dress is optional; we also show a simpler version of a belt in our instructions. You will cut your lining from pattern pieces 1, 2, 6, and 7.
0 Comments on Step 1
Patterns for this Project