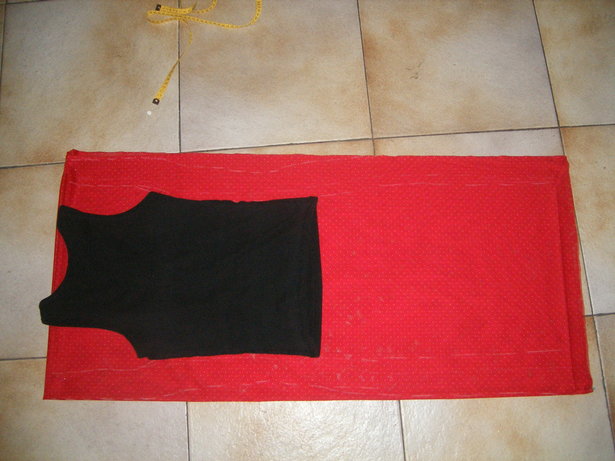 _Only jersey/lycra material! _
First of all, make sure you understand what you are doing : you want to make a tanktop with ruffled side seams. You will get that by doing your side seams on the outside with a big seam allowance.
Once you understand that, you don't really need this tutorial, it is very easy!
I used the cindy's swimsuit pattern, because I'm sewing it at the moment, but you can also use the Cowl dress/Cowl top from Ichigogirl.
Or you can use a tanktop as well, like on the picture :
You need two pieces of fabric that are about 50cm x 100cm (size 36), for a final piece that will measure about 50cm x 50cm (sounds weird but it's what I did!)
Put your pattern/tanktop in the center of the upper part, and draw the shape on the fabric. Don't follow the armholes, but go on straight or even a bit wider.
Then draw a parallel line (like a seam allowance), about 6cm from the first line, on the sides of the pattern.
Cut along the external line. You have two pieces because the front and the back are the same. Mark the top on each piece (that's only to help you remember it… because it's not obvious!)