Fatina Plus
Added Aug 31, 2009
By burdastyle
New York, New Yo...

Step 9 ARMHOLES AND SIDE SEAMS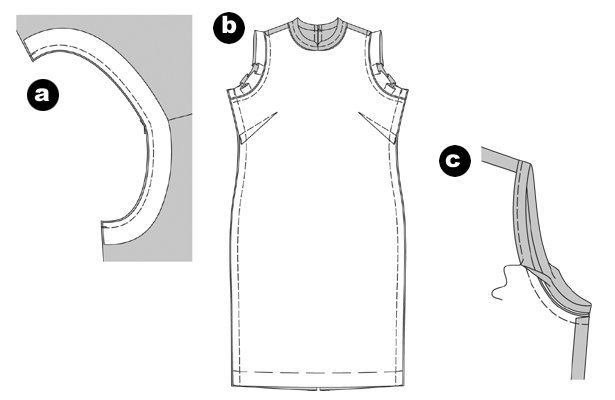 Trim allowances along the armholes to ½" (1 cm) width.
Position the bias strips on the armhole, right sides facing, and pin. Stitch ¼" (0.7 cm) wide along the armhole edge. (a)
SIDE SEAMS
Turn the bias strips inside the armholes, over the seam line, and press.
Position the front and back pieces together, right sides facing. Pin the side seams (seam numbers 3 / 6) and stitch. Neaten allowances and press apart. (b)
Fold the bias strips over the edge to the inside, fold again and pin. On the right side of the fabric, stitch along the seam line, enclosing the bias strips. ©
0 Comments on Step 9
Patterns for this Project
Produced by BurdaStyle