Daenerys Qarth Dress
Added Feb 4, 2014
by janelee1984
London, United K...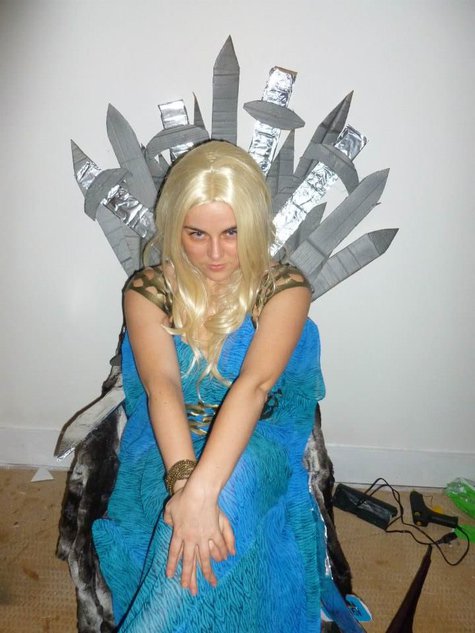 ShareThis
Description
This is the dress that I made for my 30th birthday party, which was Game of Thrones themed. As usual I left it completely to the last minute (despite having the fabric for a whole month), so it didn't turn out quite as hoped. I bought a nice bag of beads that I was going to add to it, and I was going to get one of those plunge bras and tack the top of the dress to the straps, but hey ho. I didn't hem it either. My machine is doing weird stuff with the top tension at the moment and was doing bad things to the georgette. One thing I have learnt though, is never bothering to pin a rolled hem again. Once I started just rolling the fabric by hand as I fed it through the machine everything went a lot faster. That or I should just get a hemming foot. Hopefully someone else will have a Game of Thrones party and I can wear it again and fix the bad bits.
I loosely followed this really great blog
http://www.idothingsilove.com/2012/10/daenerys-qarth-dress-update.html
for my instructions. However, I'm a cheapskate and really short, so I used less yardage. I also made the back layer the same as the front instead of using the elastic low back because I thought I'd be wearing a bra with straps (that I never bought). I also used a cheap piece of gold upholstery pvc for the metal pieces. It doesn't look as nice, but it cost £1.50 and it took me half an hour with a craft knife to do it, so I call that a win.
The fabric was from an ebay seller. It came stained, I sent an email complaint with a photo and got no response (!). Luckily I could hide the stain in the back piece.
Sorry for the lack of decent photos, I have a tendency to put on the costumes that I make and then get so excited that I don't get anyone to take a picture of the front and back. This was a fun no pattern make, and it's left me considering making a non-costumey one as a summer maxi dress. We shall see…
Material Notes
Georgette
PVC
Difficulty
Novice
Categories
Credits
0 Comments