Creamy Rayon & Cotton Florals
Added Aug 18, 2011
by lauramae
Novato, Californ...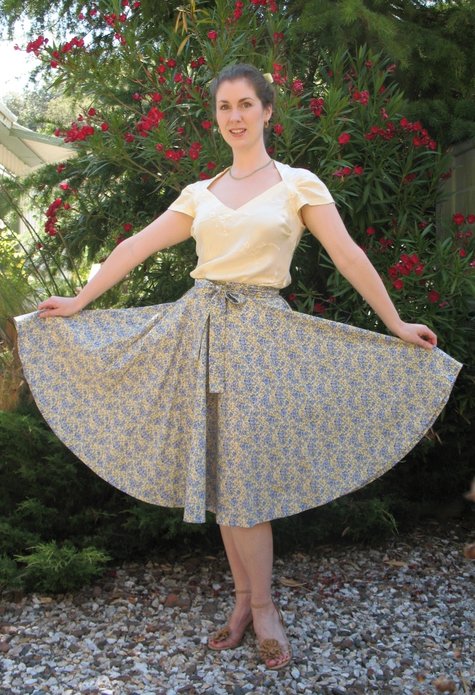 ShareThis
Description
BLOUSE – McCalls 6399: MISSES' TOPS: Fitted, stitched pleats, optional invisible zipper, shoulder pads.
The instructions on this pattern are extensive. An entire two pages are used to describe common alteration techniques that match back to labeled lines on the pattern pieces including: tissue fitting; broad back; full bust; full hips; high round back; low round back; sway back; forward shoulder; full upper arms; small arms. They even include a bit of humor: step 18 suggests that you "take a lemonade break! . . . the construction is a little unusual, so make sure you know where you are going with it!" I will admit that this made me laugh out loud – I have never seen anything like it.
There are more steps involved than I anticipated, but nothing is extremely difficult – and you can always take the pattern's advice and take a break and come back to it with fresh eyes.
I was super excited to find a blouse pattern for a woven fabric that does not require a zipper or buttons and had grand ideas of making up many different versions of this blouse. However, I had a few issues with the pattern. There are some serious drag line on the lower back portion of the pattern – looking at the line drawings, they are there as well, I just thought the company was showing the bias cut with a couple of well-placed lines. The waist tucks are great in theory, but they create a pool of fabric at the front tummy and lower back. They do, however, work wonderfully at the bust.
I tried the flat back adjustment. It worked great for the upper portion of the garment, but the concave lower back was exacerbated by this alteration and ended up looking funny. I decided to cut off a bit of the front to even this out.
And I love the sleeve treatment on this pattern. I decided to forego the shoulder pads – I just do not think they are necessary for the garment (and they would be very visible with my light colored satin.
Instead of topstitching the front facing, I understitched the front facing and ironed it down. And I hand stitched the underarm bias facing instead of topstitching.
Something to be aware of is that this blouse requires a bra with wide-set shoulder straps.
SKIRT – McCalls 4875: Misses Skirt: Flared skirt in two lengths has side opening, waist-band and tie ends; hook and eye closure.
The instructions are very simple. However, I am not thrilled with any pattern that says it can be completed in 2 hours – it makes me feel like a bit of a sloth if I cannot complete the darn thing in less than the time stated. Besides, I like to use nice finishing techniques and I hate to rush sewing – after all, I am doing it for my own enjoyment.
This is a true circle skirt, so it will require quite a bit of cutting space.
I love the way this skirt is put on the body. It opens for a few inches on either side with an interfaced band attached to the front piece which closes around the back with hook and eyes. A longer band is attached to the back piece and gets tied in front. In theory, this is brilliant. However, if you are not careful, you may flash a good portion on your hips through these openings, especially when seated (so make sure your hip measurement is not larger than the pattern pieces). My solution to the problem is to pull the back openings over the front. This creates a bit of overlap and the material does not quite stay flat, but it does cover everything. Also, I tucked my blouse in, in case anything rotated during the day.
Because I made this skirt long ago, I do not remember everything about its construction. However, I did use french seams to finish my edges and clipped at the point where the hip openings are narrow hemmed.
I also used a very narrow hem to avoid dealing with extra material – if you are going to use a deep hem I would suggest cutting a facing from the bottom portion of the pattern pieces to avoid bulk.
If this pattern is in your stash, take a look – it is a fun construction technique for a skirt, even if there are a few downsides. I suppose one could make a modesty placket – but that would certainly take this out of the 2 hour skirt range!
I am happy with the end result, just not as thrilled with the blouse as I had hoped to be. But I will have to remember that this skirt is living in my closet!
Material Notes
*Rayon *Hug Snug rayon seam binding *Quilting cotton
Difficulty
Intermediate
Categories