Coffee Bean Day Dress
Added Feb 9, 2011
by lauramae
Novato, Californ...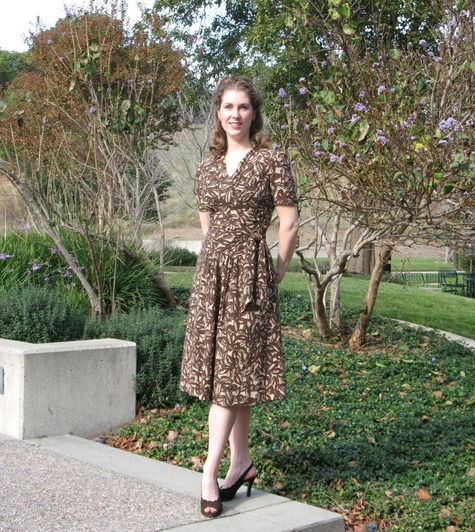 ShareThis
Description
Vintage Vogue 2876, Original 1943 Design. MISSES DRESS: A-line dress, fitted through bust, mid-knee length, has lined bodice with below waist seam, gathered at each side of shaped inset and overlaps to tie at left side. Instructions given to make shoulder pads. Option of snap or zipper closing at side. A: short sleeves. B: long sleeves with seam opening and snaps.
I absolutely adore these Vintage Vogue Reproductions. I was not sure how this one was going to look on me, so I have had the pattern sitting around in my stash for years (the pattern has a 2005 copyright, and that is probably when I purchased it).
I have named this my coffee bean dress because the abstract pattern and color combination reminds me of coffee, although the print was probably meant to be abstract flowers. I found this brown toned rayon at Jo-Anns of all places! Every once in a while they come through with quality fabric, and I was super excited to find this yardage.
Because of my fabric choice, I think some of the style-lines are a bit obscured unless you get really close! That is something to keep in mind; if you are not sure about your top-stitching capabilities, a busy print may save the day! On the other hand, if you want all your hard work to be seen, you may want to opt for a solid color.
There is a liberal use of lapped seams and top-stitching in this pattern, so make sure you can find matching thread, or you could go for a wild contrast. I would say that the top-stitched triangular insert at the bust is the most challenging portion of the pattern. Once you get through those steps, everything else is self-explanatory.
It is also interesting to note that the pattern calls for a lined bodice as well as a facing – this works great for sewing down the facing because, like an underlining, you can make your stiches invisible from the outside of the garment so long as you are careful to only pick up the lining. The bodice lining, so often missing from vintage patterns, is rather necessary in this instance to keep the midriff skin from showing. You will be able to see the reverse side of the fabric when you open the ties – this does not look great on a fabric with a clear right and wrong side, but at least it does not show while you are wearing the dress.
The instructions are easy to follow, however, there are quite a few fiddly parts. I would suggest taking things step by step. I usually bounce around and work on the skirt, finish my shoulder pads, go back to the bodice, then work some more on the skirt, or whatever tickles my fancy at the time. Because there are quite a few steps involved, make sure you read each and every step even if you take something out of order!
My standard addition of 3/4" to the torso length was a bit tricky on the right tie, and the right tie facing, but certainly not impossible – just find your waist-line mark, and work from there.
I also added a lining to the skirt. My rayon was on the thin side, and I wanted to be able to wear the garment with or without a slip. Turns out I had just enough of my fabric to do this if I removed some of the gathering in the skirt front (easy to do because this is a "cut on the fold" piece). I would recommend taking the extra ease out, even if you have sufficient yardage, because of the tummy placement of the gathers.
The pattern gives you the option of sewing in an extension to the side seam with snaps for your opening or using a zipper. I would always recommend using a zipper, although it may not be the most vintage accurate technique. The snaps and hook and eyes are always opening on me when I reach an arm out or twist in either direction, so I go straight for the zipper option (even if it is not suggested).
For side zips, which can be very difficult to get in and out of, I always purchase a longer length than recommended and install it as close to the armhole as possible (ignoring any circles or pattern markings for insertion – just make sure you leave your seam allowance for setting in your sleeve) as the shoulders are the largest point that the dress is going over. In this case, I used a 16" zipper instead of a 12".
This is not my favorite Vogue repro, which is one of the reasons it has languished in the stash for so long, but I am pleasantly surprised with how it turned out. The tie-waist is especially flattering, and allows you to pull in the waist on a good day, and give yourself a bit more room on the not so good days!
Difficulty
Intermediate
Categories
Feb 9, 2011, 07.24 AMby salvia