Cherry Checked Silk
Added May 24, 2011
by lauramae
Novato, Californ...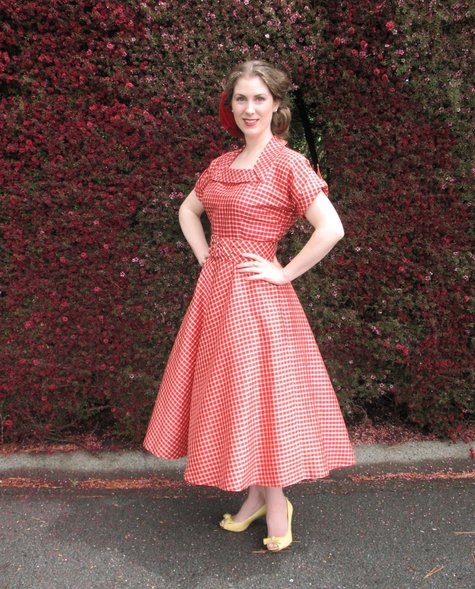 ShareThis
Description
Advance 5574: Short sleeve Dress with Purchased Belt; Dress with Long or Three-quarter Sleeves – Contrasting Collars and Three-quarter Sleeve Cuffs. I chose View 1.
Size 17, Bust 35, Hip 38. I am curious about the pattern sizing – I suppose the odd number means this is a "teen" pattern, but I am not positive about that.
I finally had the chance to take some picture of this dress. I was hoping to finish something new for my visit to the Legion of Honor to see Isabelle de Borchgrave's exhibit, but the weather did not cooperate. (If you happen to be in the Bay Area before June 12th, I would encourage you to stop by and see these amazing works of art. You will not believe what she can do with paper!) So, anyway, I ended up pulling this out of the closet, along with a swing coat I made to brave the San Francisco wind and rain.
I purchased this pattern quite a few years ago on E-Bay. An acquaintance mentioned that she purchased vintage patterns there with some success, so I thought I would give it a go. Unfortunately, I did not pull apart each and every pattern I received to make sure I had complete patterns, only to find out years later that they contained pieces from other contemporary patterns. Needless to say, this soured me on the whole bidding for vintage treasures on ebay, and I have avoided my box full of vintage patterns for fear of more disappointment.
The good news is that, although the envelope is completely tattered and discolored, this pattern is complete except for the three-quarter sleeves which someone cut off at the short sleeve perforations and then discarded. And I can live with that!
Like many vintage patterns, the instructions assume that you have a basic knowledge of sewing. I would not recommend this pattern to a true beginner. That being said, there is nothing incredibly difficult about this pattern.
I added 1" to the torso length.
The pattern instructions would have you insert a 9" side zipper (or "slide fastener" if you want to use the vintage lingo) as well as a 5" zipper at the back neck opening. Now, since there is a back seam that runs from neck edge to hem, I thought it silly to use two separate zippers when I could just use on long one all the way down the back (this would also make it easier to get in and out of the dress). Having completed the dress, I now understand the two zipper recommendation. If you are using a checked pattern (as seen on the pattern envelope and my version), matching up checks cut on the bias and inserting a zipper is not something I care to repeat any time soon!
I used cotton muslin that I had in my stash as an interfacing material because the silk had quite a bit of crispness to it. I probably should have used something with a bit more body, but the cuffs stand up, so the muslin ended up working for me.
I also made myself a self-fabric belt and buckle. After some thought, I decided I wanted a 3" wide belt, cut on the bias (I used a fusible interfacing that I had on hand for the belt and buckle). When working with buckle and button kits, I always fuse interfacing to my fabric so that the metal of the buckle/button form does not cause the fabric to look shiny. For very light-weight fabric I may even fuse two pieces of fabric together with Stitch Witchery before cutting. I also find that this cuts down on the amount of fraying while you manipulate your fabric over the forms.
The first time I tried the dress on, I was very disappointed. Without a crinoline and belt, the skirt look very sad, and I was concerned that I had sacrificed my lovely silk for a blah dress. It is amazing what a crinoline or petticoat can do!
If you can get your hands on this pattern, I would highly recommend it. I may attempt a three-quarter sleeve version at some point with contrasting collar and cuff when I feel like drafting the missing sleeve.
I am thrilled with my dress. Each time I wear this I get so many compliments! I must have had twenty different people at the Legion of Honor come up and ask about my outfit. I love how artistic people appreciate my old-fashioned ways!
Material Notes
*Silk Dupioni, Cherry Checks from fabric. *Cotton used for interfacing *Gutterman silk thread
*Rayon seam binding from Matticakes on Etsy. *24" Vintage metal invisible zipper in apple red
*Maxant buckle kit *Fusible interfacing scrap for buckle
Difficulty
Intermediate
Categories
May 25, 2011, 08.33 PMby Anjomo

May 24, 2011, 09.17 AMby tirrs

May 24, 2011, 01.35 AMby goodie