Celestina
Added Jul 16, 2007
By burdastyle
New York, New Yo...

Step 9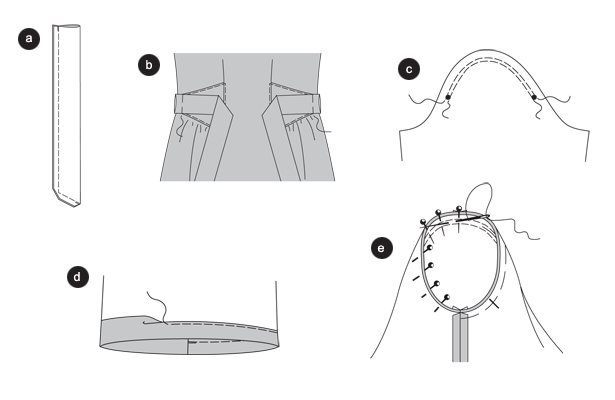 Belt
Fold belt ends lengthwise, right side inwards. Baste edges onto each other according to the drawing and stitch. Trim allowances. Cut corners diagonally. Turn belt ends. Pin edges, press (a). Baste belt ends on top of trimming onto the front (b)
Side seams
Position front on top of back, right sides facing. Baste side seams (seam 7). Cross seams meet. Stitch. Neaten allowances and press.
Sleeves
To bolster the sleeve circle stitch twice from ● to ● using long stitches. Fold sleeves lengthwise, inside out. Stitch sleeve seams (seam 8). Trim allowances and press. ©
Sleeve seams
Fold and press seam inwards, fold once more and baste. Stitch seam narrowly. (d)
Attach sleeves
To strengthen the sleeve circle pull the underthread of stitch seams slightly.
Pin sleeves onto the sleeve lines, right sides facing. To apply the sleeves 4 points are important to give a nice fit:
= The cross lines of sleeves and front piece have to meet. Sleeve and side seams have to meet. The cross lines of the sleeve circle have to meet the shoulder seam. The width has to be spaced out to prevent pleats. Baste the
sleeve on part of the sleeve side and stitch. Trim allowances, neaten and press inside the sleeves. Stitch seam. (e)
0 Comments on Step 9
Patterns for this Project
Produced by BurdaStyle