baby carrier, blk/blueflames
Added Sep 21, 2008
by momma-of-7
Moberly Lake, Ca...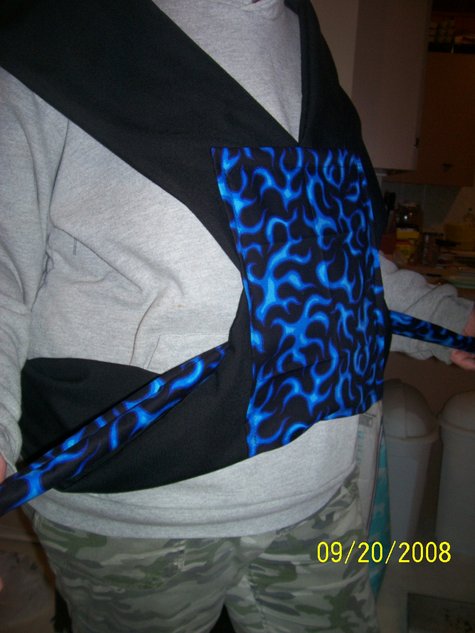 ShareThis
Description
this is the newest baby carrier….im so used to making these, this one took me about 3 hours to do.
Material Notes
Materials:
medium to heavy cotton
crafting square
-————————————————————
Measurements:
measurements entirely depend on the wearers size…to find yours(or your "models")
measuer DIAGNALLY from the top of the shoulder to the hip. times this number by 2.
ie: shoulder to hip=30"...30″×2= 60"
to be confortable, yet sturdy, i suggest the straps be 6"wide.
ie: before sewn your straps would be 60"long by 12" wide.(photo#1)
i use a 1/2' seam allowance
-————————————————————
Sewing:
sew each strip inside out, leaving enough open at one end to pull back thru to right side out(photos #2,3,4 and 5)
you will now have 2 60″×6″ strips
(from now on we'll call them strip1(end A/endB) and strip2(endC and endD)
now, find the center of each strip. place and pin your two strips into an "X" shape.this will create a DIAMOND shape on the front of the carrier.(photos #6,7, and 8).
sew together the ends of each strips
ie: strip1, sew endA to endB
strip2, sew endC to endD
this will give you overlapping circles.
and your carrier is nearly complete.
now take your crafting square and fashion it into a large pocket over the diamond shape on the front of the carrier.
Difficulty
Novice
Categories
Credits
While i can garuntee absolute safety, i can assure you all that i have had no problems with this type of hoem made carrier.(and believe me-theyve been tested well!LOL)

as with all baby-wearing accessories please use caustion. always support your child when beding over, never wear near open flame. overall use your good old parental common sence and hopefully youll be handsfree but still have that wonderful closeness we all need with our lil'ones!

---

another note:

i made a thin stip of fabri(much like when making the larger srtaps) to lightly tie around the childs waist while in the carrier. i found that using this, especially while baby was very young, gave me extra assurance of safety.

this carrier can be used from about 5 to 30 pounds.

"tummy to tummy" for smaller babies.

"front facing" for older children.

PS.

Breastfeeding is a CINCH in the tummy to tummy position and is quite discreet!

i once went thru an etire horu long feed walking thru the grocery and no one even realized i had breasfed nearly that entire time!

---

i hope this all makes sence! enjoy your baby-wearing!