Annette's Coffee Date Dress
Added Oct 10, 2011
Meadville, Unite...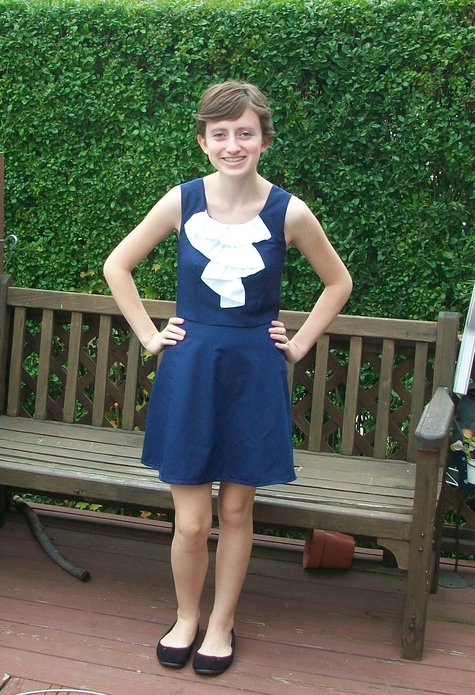 ShareThis
Description
This dress was my first sewing project by pattern. I got the pattern from The Selfish Seamstress, who is really not selfish at all for sharing such a great pattern! I also found two great sew-alongs online that pertained to this dress: Bobbins of Basil, and Grosgrain. They definitely helped a lot with the whole process for me. (Also I had some great advice from friends that helped with my project)
As you can see, I did the dress in a navy blue with white fabric for the ruffle. Overall I'm very happy with it, though of course there are exceptions that I would probably only notice because I made it.
I didn't have a zipper foot attachment for my sewing machine, so I used the regular foot- making it a not-so-invisible-zipper. I also didn't have the foot attachment for the blind hem, so I did a fairly "regular" hem- double folded over and sewn. The length ended up being a tad shorter than is comfortable (when sitting down), but it's still okay. Also, one thing to note about the pattern (if you've sewn this dress maybe you have already noticed!): I'm 5'1, 95 lbs, and an A bra sized cup- basically a perfect fit for the original "petite" pattern. When I first sewed the entire top, putting it on around me it seemed too small- I let out the darts in order to mend this, however when the entire dress was put together it was (still is) a bit too big in the waist area! So, in case you've encountered the same problem, don't worry, you'll probably fit into it! It's really just the way the dress is designed.
Anyways- the point being that even though I made a couple of mistakes, I'm still very happy with the finished project. On to another one soon! (If school doesn't eat up all of my time again)
Difficulty
Novice
Categories