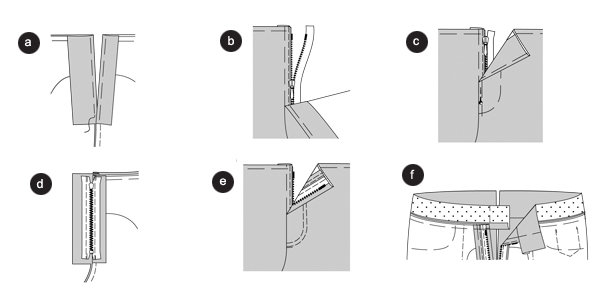 Zipper
Fold inside and baste the facing of the front pant piece along the front center. Allow the facing to under lap approximately ."(1cm) at the right front pant piece, so that the zipper will be covered this way later on. Fold inwards and baste the facing, press. (a)
Baste the under lap onto the zipper strap close to the little teeth, and stitch narrowly. (b)
Close the zipper. Pin the slit, centers are facing. Baste the zipper strap onto the right facing ©; do NOT incorporate the pant piece. Stitch (d).
Stitch the left slit edge as demonstrated, thereby incorporating the facing. (e)
Waistband
Position the front waistband pieces onto the back waistband pieces, the right sides facing. Stitch lateral seams (seam 4). Press the allowances apart.
Baste the waistband pieces, including the interlining onto the upper waistband edges (seam 5), the right sides facing. The lateral seams meet. Stitch. Cut back the allowances and press inside the waistband. (f)
Related Techniques